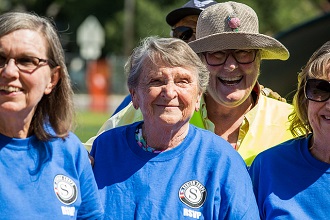 By Sherry Saturno, Executive Director, Gramatan Village

Jan. 30, 2019:  Gramatan Village has become the newest official station site for RSVP of Westchester. RSVP of Westchester is one of over 750 national volunteer programs for adults age 55 and up. Under this federal program, Senior Corps is a network of national volunteers who are 55 years old or older. RSVP of Westchester through the Senior Corps offers volunteers benefits such as transportation reimbursement and supplemental liability insurance.
"Gramatan Village is delighted to become part of the national Senior Corps. We value the wisdom and experience of our mature volunteers and recognize the depth of talent and skill these volunteers have to contribute," stated Sherry Saturno, executive director of Gramatan Village.
As part of this new collaboration, Gramatan Village has volunteer positions available for a volunteer driver, a friendly chats volunteer, an office assistance volunteer, an educational workshop leader volunteer, and a creative projects volunteer.
Photo courtesy Gramatan Village

Editor's note: As a public service, MyhometownBronxville publishes articles from local institutions, officeholders, and individuals. MyhometownBronxville does not fact-check statements therein, and any opinions expressed therein do not necessarily reflect the thinking of its staff.