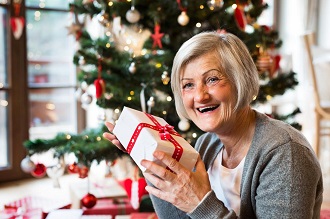 By Sherry Saturno, Executive Director, Gramatan Village

Jan. 9, 2018:  Gramatan Village, a nonprofit organization that supports empowered aging-in-community, has collaborated with the Volunteer New York! RISE program, which helps connect young adults with intellectual and developmental disabilities to volunteer projects where they can practice job-readiness skills. 
As part of this integrated service project, Gramatan Village and RISE volunteers worked together to create 144 festively wrapped holiday presents for residents in need at the Wartburg, a premier residential and health care facility in Mount Vernon. "We think a pair of socks wrapped, gifted, and delivered by a volunteer who cares is a lot more than just a pair of warm socks, it's a warm memory and a way to feel connected. That's what's important," said Gramatan Village's executive director, Sherry Saturno, who participated in the event.
Gramatan Village and Volunteer New York! delivered the gifts to residents at the Wartburg's Meadowview Assisted Living Facility, memory care unit, and adult day program on Thursday, December 20. The residents were excited to sing holiday carols together with the volunteers.
Gramatan Village and Volunteer New York! are delighted to participate in this act of community engagement and to have the opportunity to spread holiday cheer. "We are so thankful for our partnership with Gramatan Village. The generosity of their members and RISE program volunteers is sure to bring a smile to our residents this holiday season," said Angela Ciminello, vice president of development and marketing at the Wartburg.
Gramatan Village is a nonprofit organization that supports adults ages 55 and up who want to age in the home and neighborhood that they love.
Photo courtesy of Gramatan Village

Editor's note: As a public service, MyhometownBronxville publishes articles from local institutions, officeholders, and individuals. MyhometownBronxville does not fact-check statements therein, and any opinions expressed therein do not necessarily reflect the thinking of its staff.