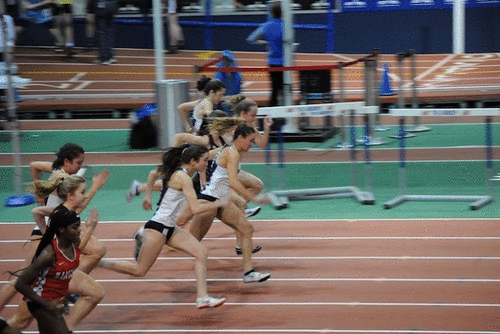 The Bronxville girls at the Section 1 Class C Championships. Photos by Jane Ircha.
By S. Quinn DeJoy and J. Murrer
Feb. 19, 2020: At the Indoor Track and Field Class C Sectional Championships held on February 19th, the Bronco girls set 16 PRs and took home the Class C Sectional Championship for the 35th consecutive year.
Fourteen girls were sectional champions, and Eve Balseiro, Millie Koenig and Caroline Ircha placed first in multiple events. The Broncos scored 170 points and were followed by Albertus Magnus with 77 and Pawling with 69. See below for individual results.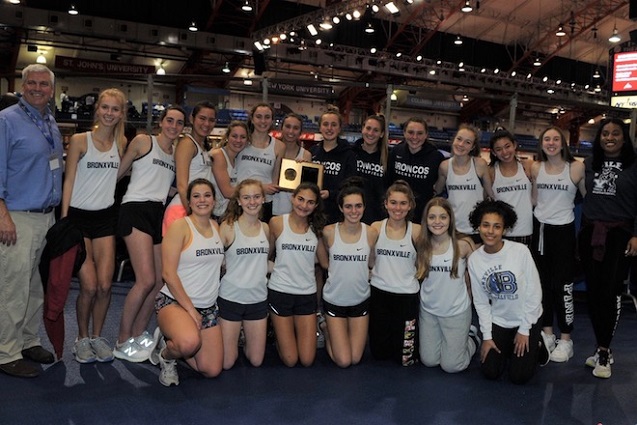 The Broncos, along with Coaches David Ryan and Keina Samuels, after winning the Class C Sectional Championship. Photo by Jane Ircha.
The Bronxville girls' team has been breaking records all season in both running and field events. In the long jump, Koenig set the All-Time Bronxville record of 17-3 in late January, and at the sectional meet, Remi Mellinghoff moved to 4th place on the All-Time List with a jump of 15-3.75.  
There are some very fast runners on this Bronco team. Sabrina Mellinghoff set the fastest time in Bronxville history in the 55m (7.46) last February, and at the sectional meet, Ircha ran a 7.53 to move to the No. 3 spot and Alisa Kanganis ran a 7.64 to move to No. 7.
The Bronxville girls are particularly speedy in the 300m.  They took the top five places at the sectional meet with strong finishes by Ircha (1st), Koenig (2nd), Kelly Weild (3rd), S. Mellinghoff (4th), and Kanganis (5th).
Balseiro, who did not run the 300m at the Sectional Championships, is the fastest 300m runner in Bronxville history with a time of 40.76. Also in the top 5 all-time are Ircha (2nd, 40.91), S. Mellinghoff (4th, 41.66) and Koenig (5th, 41.99).
Koenig, Ircha, Kanganis and Balseiro just set a new 4x400m record at the Millrose Games with the 6th fastest time in the U.S. and will compete at Nationals in mid-March.
Two additional Bronxville girls' relay teams also qualified for Nationals at the North Shore High School Pre-Nationals Invitational held on Valentine's Day.
In the SMR, Ircha (200m), Kanganis (200m), Balseiro (400m) and Ava Black (800m) won the race in 4:09.23 and are currently ranked No. 4 in the U.S.  Weild (200m), Lauren Rao (200m), S. Mellinghoff (400m) and Betsy Marshall (800m) placed 6th in the SMR in 4:13.57, also qualifying for the National Championships.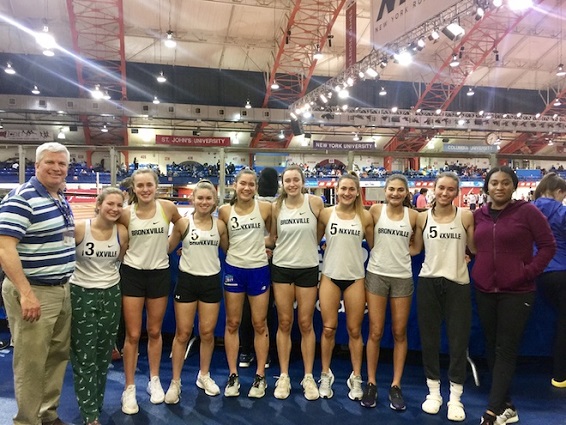 Coaches Ryan and Samuels with the two SMR relay teams at the North Shore High School Pre-Nationals Invitational. Photo by Cathy Balseiro.
Next up for the Broncos are the State Qualifiers, which will be held on February 23rd.
Sectional Results: (Broncos finishing in 1-6th place)
55m:Ircha, 1st, 7.62; Kanganis, 3rd, 7.64; Donna Napolitano, 6th, 7.89
300m: Ircha, 1st, 41.46; Koenig, 2nd, 42.04; Weild, 3rd, 42.90, S. Mellinghoff, 4th, 43.10; Kanganis, 5th, 43.30.
600m: Balseiro, 1st, 1:40.35; Marshall, 2nd, 1:40.76
High Jump: Marielle Dibbini, 1st, 4-9
Long Jump: Koenig, 1st, 16-8.25; R. Mellinghoff, 2nd, 15-3.75; Natalia Metzger, 4th, 14-3.75; Danielle Dragoni, 6th, 12-10.75
Pole Vault: Jules Gravier, 1st, 11-0
Triple Jump: R. Mellinghoff, 1st, 32-1.5; Dragoni, 6th, 28-6
4x800m relay: 1st, 9:53.47 (Maeve Sullivan, Rory Dennning, Maddy Stupart, Black)
4x200m relay: 1st, 1:45.97 (Ircha, Koenig, Kanganis, Balseiro)
4x400m relay: 1st, 4:12.93 (Marshall, Weild, S. Mellinghoff, Balseiro)
Go Broncos.