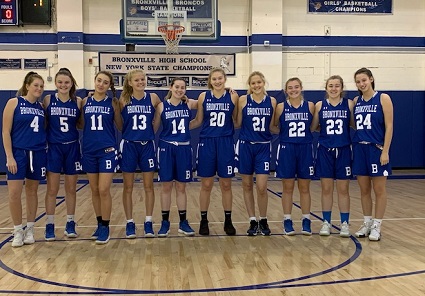 By S. Quinn DeJoy and J. Murrer
Jan. 22, 2020: With three weeks remaining in the regular season, the 10-3 Bronxville girls' basketball team is off to its best start in quite some time. In the last week, the Broncos have had three consecutive wins against Blind Brook, Rye Neck, and Valhalla and will play away at Ardsley tomorrow.  
In a home game against Blind Brook yesterday, the Broncos soundly defeated Blind Brook, 46-31. Bronxville scored first and never gave up the lead with Stella Daskalakis, Ashley Wetty, and Kiki Tormey scoring 12 points apiece.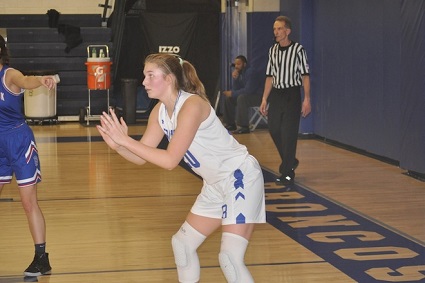 Ashley Wetty in the game against Blind Brook. Photo by J. Murrer
Last Thursday, the Broncos pulled off a win over a strong Rye Neck team. In a game that went into double overtime, Skyler Martin hit two 3-pointers to help lead the Broncos to a 59-51 victory. Martin had 16 points overall in the game, and Tormey scored 18. 
Tormey and Martin were also high scorers for Bronxville in the 34-17 victory over the Valhalla Vikings last Saturday. Tormey scored 11, and Martin scored 9.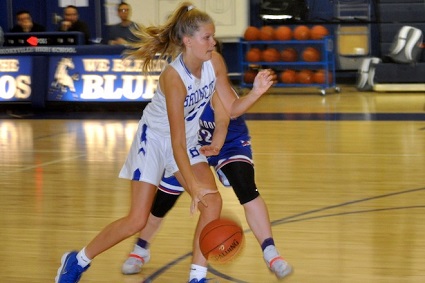 Kiki Tormey takes the ball down the court in the game against Blind Brook. Photo by J. Murrer
The team is led by Captain Hanna Bishop and has had different players step up each game, including juniors Martin and Daskalakis and sophomores Tormey and Wetty.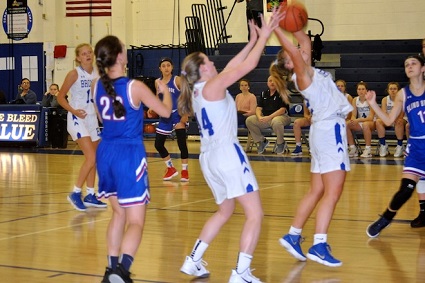 Bishop and Martin go up for the rebound in yesterday's game. Photo by J. Murrer. 
"The team is playing great ball lately," noted Coach Donny Lucas. " Hanna has really brought this group of girls together."
The last five games of the regular season are league games against Keio, Edgemont, and Blind Brook, but on the final day of the regular season, the Broncos will have a rematch against Rye Neck.
There are 18 teams in Class B, and according to KDJBlog.com, the Bronxville girls are ranked 5th. Briarcliff is the top-ranked Section 1 team in Class B, followed by Putnam Valley, Irvington, and Hastings. 
Go Broncos.