Qqqq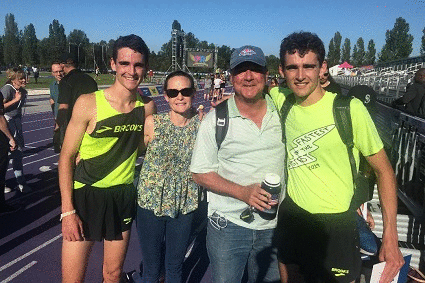 By S. Quinn DeJoy and J. Murrer
Jun. 19, 2019:  While the Class of 2019 graduated this past weekend, two of its members, Alex and Matt Rizzo, were racing in an elite track meet in Seattle. The Brooks PR, which bills itself as "The Fastest of the Fastest Race," is an all-expenses-paid meet where the fastest high school runners are invited to compete.
At the University of Washington's Husky Track, Alex ran the 800m along with six other elite high school runners from across the country. While Alex's seed time in the 800 was the second to last (1:52.18), he ran a great race and finished second in a career-best time of 1:51.32.
"I expected them to start out fast, but they ran a really slow first lap," said Alex. "It was good for me because I'm more of an endurance guy. I had a lot left in the tank and timed it pretty well. I had no idea I was going to place that well."
To see the 800m race, click here.
Matt, who at first was going to run the 800, decided he would rather run the mile.
"We were invited to run the 800 about two months ago," said Matt. "I already had a good 800 time, and so I asked if I could run the mile. I wanted to get a really good mile time--I was hoping to run a 4:05, if possible.
The mile race, made up of 16 runners, started off with the boys in a tight pack, but at about 1000m, two of the runners fell.
"Matt [Payamps] and Sam [Affolder] were tripped up by some of the guys," said Matt. "They rolled in front of me. I had to stop and then went left and then had to go around on the right. It took a lot of time and energy."
The race was just too fast for Matt to catch up at that point. He still finished in 4:19, but it was a lot slower than his indoor mile PR of 4:09.
To see the mile race, click here.
Overall, it was a great experience for the boys. Brooks rolled out the red carpet the whole weekend. They had specially designed race uniforms, free gear, a visit to the Brooks headquarters and lab where they design the shoes, a meet-and-greet with pros, and a party following the meet.
"Everything Brooks did was phenomenal and well set up," said Matt. "The one regret is that they may have put too many people in the mile."
It may have been the last high school race for the Rizzo twins, but they will continue their running careers in college. Alex heads for the U.S. Naval Academy for basic training in late June, and Matt is headed to Stanford in September. 
New Balance Outdoor Nationals
Bronxville sent ten girls from the track and field team to the New Balance Nationals in Greensboro, North Carolina, last weekend. The Broncos fared well despite competing without seniors Caroline Brashear, Natalie Weiner, and Clio Dakolias, who stayed behind to attend graduation.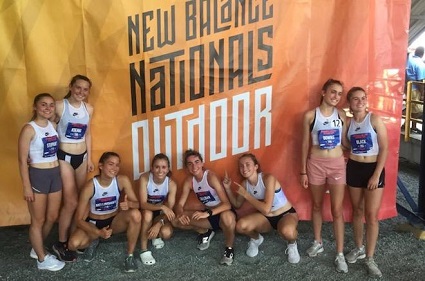 (L to R) Ella Stupart, Milly Koenig, Sabrina Mellinghoff, Alisa Kanganis, Maeve Sullivan, Eve Balseiro, Ava Downs, and Ava Black. Photo by David Ryan.
The Broncos competed in three championship relays, including the 4x400, the SMR, and the Swedish relay. The unusual Swedish relay consists of 100m, 200m, 300m, and 400m legs. The Broncos also competed in the Emerging Elite DMR.
In individual events, junior Eve Balseiro ran in the Emerging Elite 400m, and eighth-grader Remi Mellinghoff and seventh-grader Julia Widen competed in junior high field events.
The results are listed below. 
Championship Swedish Medley Relay: Alisa Kanganis, Milly Koenig, Sabrina Mellinghoff, and Eve Balseiro,  2:17.96, 19th (3rd in NYS, Bronxville School record)
Championship Sprint Medley Relay: S. Mellinghoff, Koenig, Balseiro, and Maeve Sullivan, 4:11.16, 21st  (5th All-time for Bronxville)
Emerging Elite Distance Medley Relay: Ella Stupart, Ava Downs, Ava Black, and Sullivan, 12:48.48, 26th
Championship 4x400m: Koenig, Kanganis, S. Mellinghoff, and Balseiro, 3:55.76, 23rd (3rd All-time for Bronxville)
Emerging Elite 400m: Eve Baleiro, 58.13, 33rd
Junior High Long Jump: Remi Mellinghoff, 15-1.5, 20th; Julia Widen, 14-4, 36th
Junior High Triple Jump: R. Mellinghoff, 32-3.5, 15th; Widen, 30-11, 24th 
Go Broncos.

Pictured at top (rotating): The Rizzo family at the Brooks PR Invitational (photo contributed by Charlotte Rizzo); the 4x400m relay and Swedish medley relay: (L to R) Milly Koenig, Alisa Kanganis, Sabrina Mellinghoff, and Eve Balseiro (photo by David Ryan).