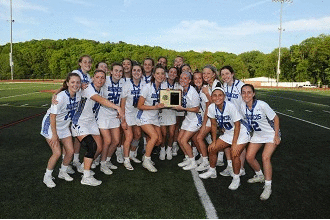 By S. Quinn DeJoy and J. Murrer
May 29, 2019: Bronxville High School athletes brought home multiple sectional championships last week.  The Bronco girls' lacrosse team won the Class D Sectional Championship with a decisive 18-3 victory over North Salem, the boys' and girls' track and field teams won Class C sectional titles, and junior Liam Krall won the Section 1 singles title in tennis.
Girls' Lacrosse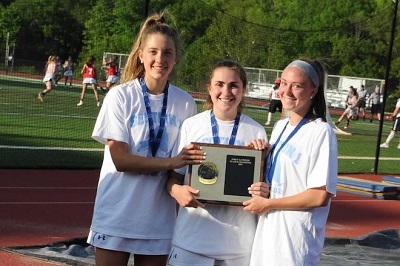 Lacrosse captains (L to R) Anneke Pulkkinen, Isabel Sondey, and Fiona Jones. Photo by Jane Ircha. 

The Bronco girls were the top seed in Class D and easily advanced to the sectional finals. No. 14 North Salem made it to the finals with upset victories over No. 2 Pleasantville and No. 3 Dobbs Ferry. In the Class D championship game last Wednesday, North Salem was the first to score, but shortly after that, the Broncos took charge and were up 14-1 by halftime.
Bronxville had nine different players score in the game, including Anneke Pulkkinen (4G), Isabel Sondey (4G), Hanna Bishop (3G, 4A), Kiki Tormey (2G), and Alex Doukas. Fiona Jones, Caroline Ircha, Jessie Sondey, and Grace McSherry had one goal apiece. Caitlin Mooney had five saves. Fiona Jones, who was named Player of the Game, won 13 of 16 draws in the first half.
The Broncos crushed Section 9's Millbrook 16-1 in the sub-regional game yesterday and will play in the regional final against Section 2's Johnstown on Friday at Mohonasen High School in Schenectady at 5:00 pm. The winner of the regional game will advance to the state semifinals at SUNY Cortland on June 7.

Tennis
Liam Krall advanced to the finals of the Section 1 Championships last week after defeating Bronxville teammate Charlie Nordahl in the semis.  Krall won the sectional title with a victory over Keio's Ryo Sakai 6-4. 6-7(4), 10-1.
"It was a hard-fought match that ended just as the sun went down," said Coach Chris Doyle.  "Both players are friends and showed excellent sportsmanship in the match."
Krall, who placed third at states last year, will compete in the state tournament on Wednesday at the Bille Jean King Tennis Center in Flushing.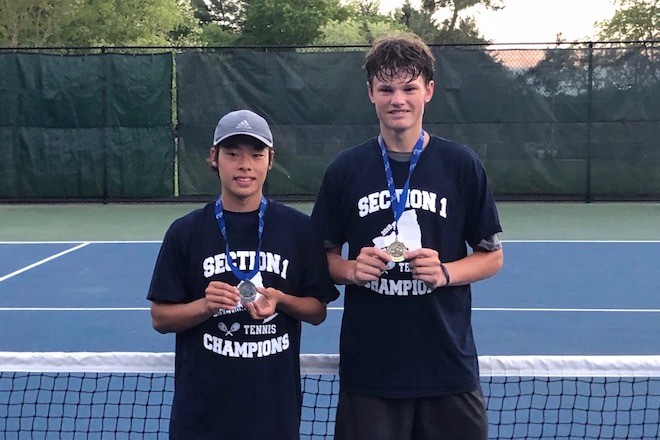 Liam Krall (R) defeated Ryo Sakai (L) to win the Section 1 singles title. Photo by Chris Doyle. 
Track and Field
The Bronco girls, always the top contender in Class C, won their 22nd consecutive sectional championship with 12 first- or second-place finishes in 17 events. Highlights of the meet included Jules Gravier's first-place finish in the pole vault with a season's best jump of 10-0, tying the Bronxville School record. Milly Koenig won the long jump with a season's best performance of 17-5.5, breaking the previous record of 16-10, which was set by Julia Thaler in 2002. 
Also winning sectional titles were Eve Balseiro (200m, 400m and 4x100m), Natalie Weiner (3000m, 4x800m), Caroline Brashear (800m), Marielle Dibbini (high jump), Molly Palma (4x800m), Ava Black (4x800m), Emma Mandanas (4x800m), Sabrina Mellinghoff (4x100m), and Alisa Kanganis (4x100m). Koenig also won sectional titles in the 100m and the 4x100m.
The boys' track and field team participated in 17 events, placing first or second in twelve. Winning sectional titles were Matt Rizzo (800m), Alex Rizzo (1600m), Seamus Watters (110m hurdles, 400m hurdles), and Eric Fleisig (pentathlon).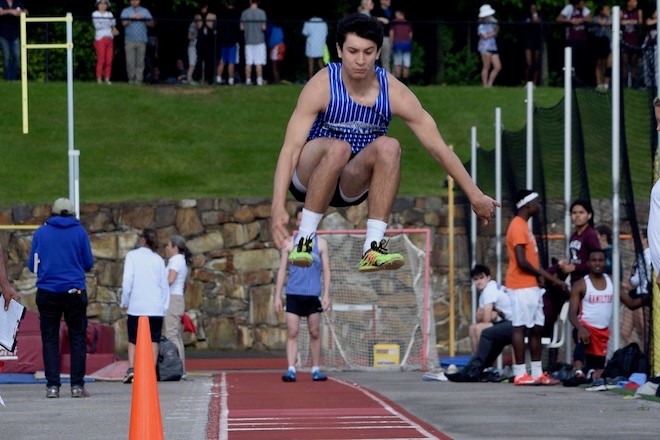 Eric Fleisig in the long jump. Photo by Charlotte Rizzo.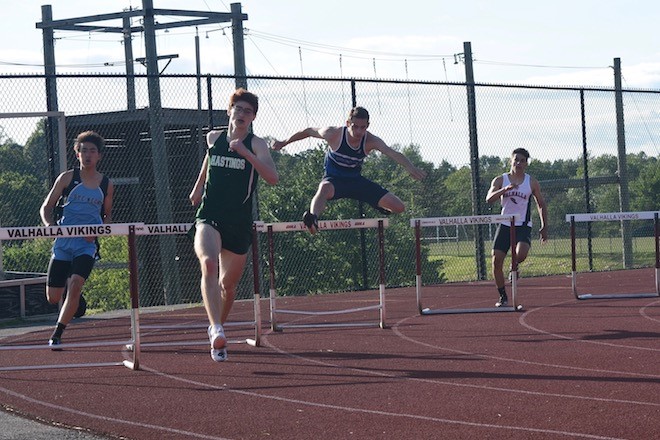 Seamus Watters jumping over the hurdle at sectionals. Photo by Charlotte Rizzo. 
Baseball
The Broncos advanced to the quarterfinals of sectionals with a 6-4 win over Irvington but fell to Albertus Magnus 10-3 last Wednesday. The team finished the season 14-8. Senior Zip Malley was named League Player of the Year and was also honored with All-Section recognition. Owen Jaquette received All-Section, Honorable Mention recognition, and Malley, Jaquette, Spencer Dessart, and Ethan Jaquette received All-League honors. 
Go Broncos.
Pictured at top (rotating): The Bronxville girls holding the Section 1 Class D Championship plaque (photo by Jane Ircha); the boys' track and field team posing with the Section 1 Class C Championship plaque (photo by Charlotte Rizzo).