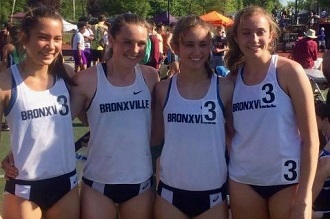 By S. Quinn DeJoy and J. Murrer
May 22, 2019:  Many members of the girls' track and field team attended the Bronxville prom on Friday night, but it did not affect their performance on Saturday at the Westchester County Championships, where the Bronco girls swept all three relays.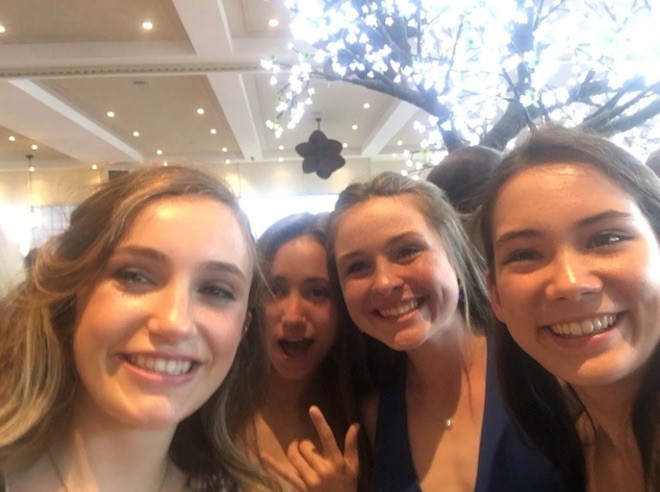 Bronxville 4x100m relay team at the prom (L to R) Eve Balseiro, Alisa Kanganis, Milly Koenig, and Sabrina Mellinghoff. Photo courtesy David Ryan.
Eve Balseiro, Alisa Kanganis, Milly Koenig, and Sabrina Mellinghoff ran the 4x100m in 49.41, the second-fastest time ever for Bronxville. The 4x400m team (Kanganis, Ava Downs, Mellinghoff, and Balseiro) held off strong White Plains and New Rochelle teams to finish first in 4:03.19.
The 4 x 800m relay (Natalie Weiner, Maeve Sullivan, Caroline Brashear, and Clio Dakolias) had an exciting come from behind win. Dakolias came from 30m back to catch Ursuline for the victory. Her time is the fastest 800m split run by a Bronxville runner this year (2:17.77).
The New York State Championships will take place on June 7 and 8 in Middletown, but before that, the Broncos still have two meets left: The Class C Section 1 Championships on May 24 and the Section 1 State Qualifiers on May 30 and 31.
All three relay teams met the super standard at counties, which automatically qualifies them for the state championship. Eve Balseiro also qualified for states, running a super standard time in the 400m of 56.49 (No.2 all-time for Bronxville).
In field events, Jules Gravier placed second in the pole vault (9-0) and Milly Koenig placed second in the long jump in 16-8.25, a seven inch PR. 
Go Broncos.
Pictured at top:  The 4x100m relay team places first at counties.
Photo by David Ryan