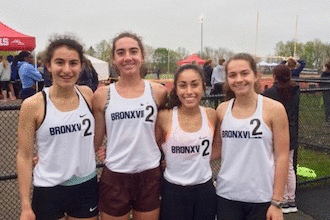 By S. Quinn DeJoy and J. Murrer     

May 8, 2019: Bronxville has always been known for its top-ranked relays, but at the Somers Invitational this past weekend, the girls' team went above and beyond. Bronxville's six relays teams each took first place overall in a meet that featured 51 teams from Classes A, B, and C. 
Junior Eve Balseiro, who competed on three of the winning relay teams, also placed first overall in the 400m. Balseiro was named Athlete of the Meet for her stellar performances.
"It was definitely humbling," said Balseiro. "It is a pretty big meet, so I was really excited. My coach told me I was in contention for the award, so I just wanted to go out and do really well."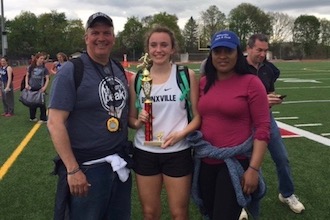 Eve Balseiro holding her Athlete of the Meet award along with Coaches David Ryan and Keina Samuels. Photo by Cathleen Balseiro. 
Balseiro's time in the 400m was 58.02, but in the 4x400m relay, she ran a 56.42 split. She has already qualified for states in the 400m, the 4x400m, and the 4x100m. This spring, she will head to the outdoor state championships for the fourth consecutive year.
Balseiro has broken eight Bronxville School records, and she is just a junior. She holds the record in the indoor 4x200m and 4x400m, along with the indoor 300m, 400m, and 500m. She also owns the outdoor record in the 4x200m and 4x200m and has the fastest indoor 400m split (56.2).
The Bronco girls' track team's success has been especially notable given that they have been without a track since late last fall. While Edgemont has been super accommodating to allow Bronxville to use their track two to three days each week, the other days the girls must train on the Hayes Field turf.
"Honestly, it has been generally tough, and, as we have gone on, it has gotten more frustrating," said Balseiro. "I think the biggest problem without having a track is that we usually do a lot of start and handoff work on the track, so our handoffs are not as good as they usually are."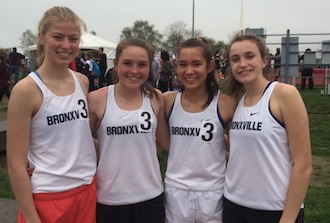 The sprint medley relay team (L to R), Caroline Brashear, Milly Koenig, Sabrina Mellinghoff, and Eve Balseiro. Photo by David Ryan.
The Bronxville girls won the Class C Championship and finished second overall behind New Rochelle. The Bronxville SMR (sprint medley relay) team qualified for nationals at the Somers Invitational, and the 4x200m relay set a new Bronxville School record of 1:45.67. The previous record was 1:47.9, which was set in 2002. In field events, Jules Gravier took first place in the Class C pole vault (9-0).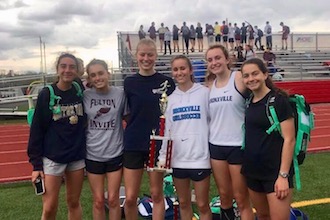 Members of the team posing with the Class C Championship trophy (L to R): Maeve Sullivan, Ava Downs, Caroline Brashear, Alisa Kanganis, Eve Balseiro, and Clio Dakolias. Photo by David Ryan. 
"Honestly, the culture is really great. It's the best," said Balseiro. "We have a really good group of girls who are really close. Of course, track is thought of as an individual sport, and it is really competitive, but we kind-of navigate so that we cheer each other on and support each other."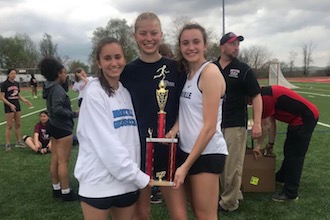 The team captains (L to R): Alisa Kanganis, Caroline Brashear, and Eve Balseiro. Photo by David Ryan. 
The Bronxville boys' team also competed at the Somers meet. Tommy O'Connell placed sixth overall in the 200m dash in a time of 22.83, Jack Kochansky placed sixth in 800m (2:02.36) and the mile (4:38.68), Seamus Watters placed sixth (1:10.74) in the 400m hurdles, and Cory Ramundo placed third (10-0) in the pole vault.  
Top runners Matt and Alex Rizzo missed the Somers Invitational because they were attending the Ursuline prom with fellow track star twins Sarah and Lily Flynn.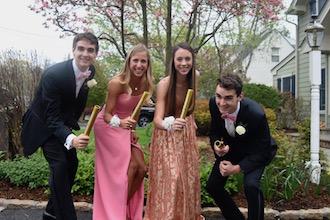 The Rizzo and Flynn twins posing for the "prom relay." Photo by Charlotte Rizzo.
Relay Results
4x1600m: Clio Dakolias, Maeve Sullivan, Emma Mandanas, Natalie Weiner, 21:51.02, 1st place overall
SMR relay: Eve Balseiro, Sabrina Mellinghoff, Milly Koenig, Caroline Brashear, 4:10.08, 1st place overall
4x200m: M. Koenig, Alisa Kanganis, Ava Downs, E. Balseiro, 1:45.67, 1st place overall
4x400m: A. Kanganis, C. Brashear, A. Downs, E. Balseiro, 3:58.45, 1st place overall
4x800m: C. Dakolias, Ava Black, M. Sullivan, N. Weiner, 9:54.58, 1st place overall
Freshman/Sophomore SMR:  Donna Napolitano, Lauren Rao, Jules Gravier, Rory Denning, 4:41.60, 1st
Go Broncos.
Pictured at top (rotating):  The 4x1600m relay team (L to R) Natalie Weiner, Maeve Sullivan, Emma Mandanas, and Clio Dakolias; members of the team holding the Class C Championship trophy.
Photos by David Ryan