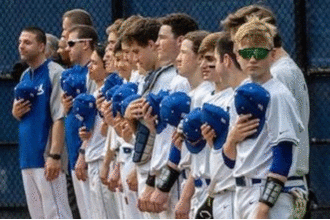 By S. Quinn DeJoy and J. Murrer
Editor's note: Click here to see photos from Spirit Week.
May 1, 2019:  Two weeks ago, the Bronxville boys' lacrosse team was ranked No. 9 in the state in Class D by the New York Sportswriters Association, but with wins over No. 1 Pleasantville and No. 5 Briarcliff last week and a win over non-league opponent Greenwich, Bronxville moved up to the No. 1 spot. The 8-1 boys' lacrosse team has also moved up in the Section 1 LoHud Power Rankings to No. 5. It has been a very nice run for the Broncos.
"Three big wins felt really, really good," said co-captain Grey Warble. "We walked into every game thinking we just have to play our game, and we came out, played hard, and won."
Last week's 13-11 win over Pleasantville was particularly satisfying because the Bronco-Panther rivalry has been stewing for a number of years. Both teams have a state title under their belt--the Broncos won in 2014 and the Panthers won last year.
From 2011 to 2014, Bronxville won four consecutive sectional championships but Pleasantville prevailed after that, winning four sectional titles between 2015 and 2018. The last time that Bronxville and Pleasantville met in a sectional final was in 2016, when the Broncos lost to the Panthers 4-3 in double overtime.
In last Thursday's home game against Pleasantville, the Broncos were ahead 6-5 at the start of the second half and scored three quick goals to take a 9-5 lead. With 4:30 left in the game, the Broncos took a commanding 13-7 lead, but Pleasantville did not give up. The Panthers came back and scored four unanswered goals, but it was just not enough to get the win.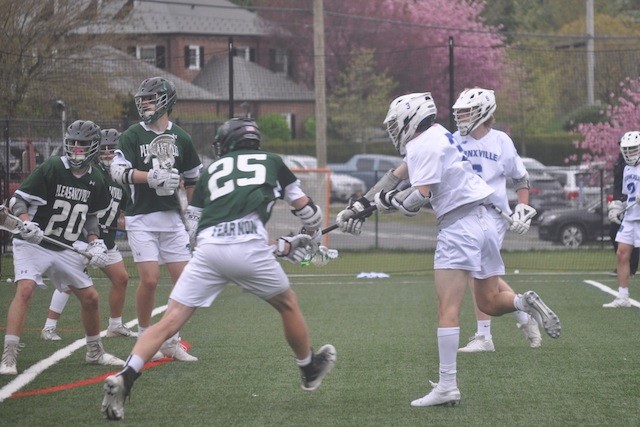 The Bronco-Panther game at Hayes Field last Thursday. Photo by J. Murrer.

Co-captain Nate Davis, who leads the team with 25 goals, was held to just two goals in the game against Pleasantville.
"One thing our offensive coach has said is that literally everyone who is on the field has the ability to score," said Davis. "In the Pleasantville game, Grey [Warble] and I were blocked off by defenders, but many other members of the team were still able to score."
Henry Sheehan and Tim Murray each had three goals for the Broncos, Teddy Donohue had two, and Luke Doukas scored one. Marco Wimmershoff had thirteen saves and Henry Donohue was 19-5 at the X.
The 27-player roster has only three seniors, but there are fifteen juniors, including captains Davis, Warble, and Logan Glick. Davis, Warble, Glick, Murray, and Doukas have played varsity together since ninth grade.
"The team culture is very much like a family," noted Davis. "The team morale is high, and everyone on the team is having fun."
The Broncos have a lot of challenges ahead. There are just five games left in the season, including three games against non-region opponents and a league game against a strong Westlake team. With league opponents Pleasantville and Briarcliff ranked in the top ten in the state, the Broncos are sure to meet some stiff competition in the Class D sectional playoffs.
"We walked into the season knowing how good we could be," said Warble. "All that was required was effort. We put that effort in, and we will see hard far we can go. Coach Ambrose is amazing. He revamped defense, and we feel really good about the culture this year. We are excited to keep going."
Baseball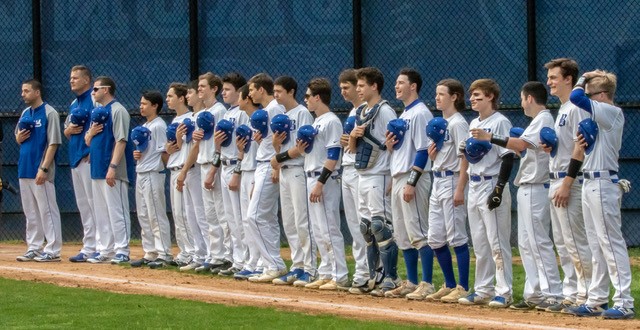 The Bronxville baseball team at Scout Field on Fan Day. Photo by Steve Malley.
The Bronxville baseball team played two games during Spirit Week. In the game on April 23, which was Fan Day, the Broncos defeated Roosevelt 9-0 with eighth-grader Ethan Jaquette picking up his first varsity win. Jaquette allowed just three hits in five scoreless innings with no walks and one strikeout.
On Sunday, the Broncos picked up a 5-4 win over Yonkers High School, rallying from a 4-3 deficit in the bottom of the last inning. Zip Malley pitched a scoreless 7th inning to earn his first victory of the season and sparked the rally by leading off the inning with his second hit of the day. Theo Sperber drew a walk, and then Owen Jaquette doubled to score Malley and move Sperber to third base. Ethan Jaquette then drove a single up the middle past the drawn-in infield to score Sperber in the walk-off win. 
Malley leads the Broncos with a .556 batting average and has 20 hits and eight RBIs. Also contributing offensively are Sperber with a .444 batting average, Jack Hommeyer (.375), Ethan Jaquette (.308), and Spencer Dessart (.303). Owen Jaquette has a 4-0 record on the mound with a 1.19 ERA in 31 innings.
Bronxville's record improved to 8-2 as Coaches Vaglica and Sabatello earned their 100th high school varsity victory together.  
Girls' Lacrosse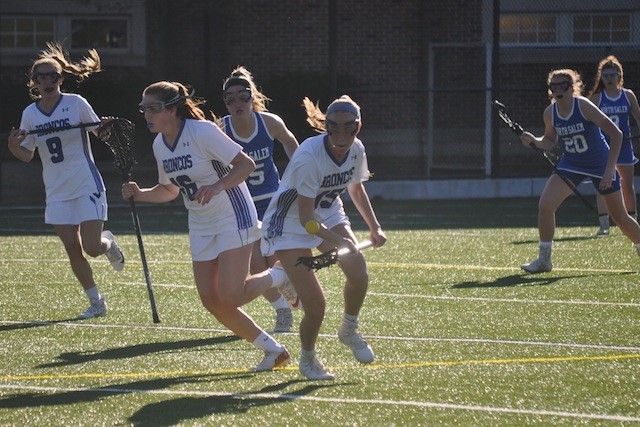 Bronxville and North Salem in a home game last week. Photo by J. Murrer.
The Bronxville girls' lacrosse team is 8-2 after defeating Greenwich 14-12 on Monday and North Salem 18-8 on Wednesday. In the Greenwich-Bronxville game, which was played in the rain, Caroline Ircha scored five goals and Hanna Bishop scored four with one assist. In the North Salem game, Bishop had five goals and five assists, Isabel Sondey had three goals, and Ircha, Alex Doukas, and Anneke Pulkkinen had two apiece. Caitlin Mooney had ten saves.
The Broncos lost their second game of the season on Saturday to Long Island's West Babylon by a score of 14-4. West Babylon is ranked fifth in Class B in New York, and the Class D Broncos are ranked fourth.
Go Broncos.
Pictured at top (rotating): The baseball team honors the flag during the singing of the national anthem during Spirit Week (photo by Steve Malley); Henry Donohue (No. 28) in the game against Pleasantville (photo by J. Murrer); and the girls' lacrosse team after the win over North Salem (photo by Jane Ircha).