By S. Quinn DeJoy and J. Murrer
May 1, 2019:  On Saturday, at the Penn Relays, the Broncos competed against some of the top relay teams in the country. The rain made for a difficult day, but the Bronxville teams had strong finishes.
Dangerous thunderstorms passed over Franklin Stadium just when the boys' DMR was scheduled to take place, but despite an almost two-hour delay, the Bronxville boys managed to post some fast times. They placed second in the High School Boys' Distance Medley Championship of America in a time of 10:13.05. St. Anthony's from South Huntington placed first in 10:10.23.
Alex Rizzo led off in the 1200m in 3:01.53, Tommy O'Connell, who lost a shoe in the race, ran the 400m in 53.71, Jack Kochansky ran the third leg (800m) in 2:01.93, and Matt Rizzo ran the final 1600m leg in a 4:15.89.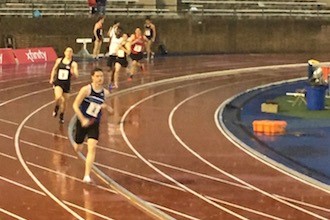 Tommy O'Connell running the 400m without a shoe. Photo by Charlotte Rizzo.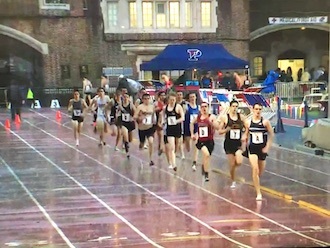 Alex Rizzo leads the pack on a wet track at Franklin Field. Photo by Charlotte Rizzo. 
The Bronxville girls sent three teams to the Penn Relays. The 4x100m relay of Sabrina Mellinghoff, Milly Koenig, Alisa Kanganis, and Eve Balseiro won its heat with a time of 50.04. This time is the second fastest in that event in Bronxville history. 
The 4x400m relay (Koenig, Caroline Brashear, Mellinghoff, and Balseiro) had a time of 3:58.01, which automatically qualifies it for the New York State Championships.
The 4x800m relay team (Clio Dakolias, Natalie Weiner, Maeve Sullivan, and Brashear) had a time of 9:30.94. This, too, is an automatic qualifying time for the New York State Championships.
The both the boys' and girls' track and field teams head to the Joe Wynne Somers Lions Club Invitational on May 3 and 4.
Go Broncos.
Pictured at top: Penn Relays at Franklin Field at the University of Pennsylvania. Photo by Charlotte Rizzo.