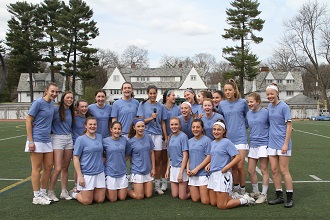 By Linda Pagano and Joanie Berkery, Members, Bronxville School PTA Athletic Council
The 2nd Annual Bronxville LaxFest is on Saturday, May 4. A celebration of all that is lacrosse by the players and their fans, LaxFest brings together the community in a way no other athletic event in Bronxville does by including the breadth of players from youth lacrosse through high school varsity and JV players.  Hosting the event will be the Bronxville School's Athletic Department and the Bronxville PTA Athletic Council, with BYLA sponsoring youth players as a tribute to the spirit of the game and a community that has been captivated by lacrosse for generations. 
The varsity and JV teams will be featured on Bronxville's Hayes Field and will face boys' varsity and JV teams from Ardsley and girls' varsity and JV teams from Rye. In coordination with Rye Youth Lacrosse, BYLA has matched up Girls 8A and Boys 8 teams on Hayes Field before and after the high school games.  
Hayes Field:
8:15 am: Girls' 8A vs. Rye
10:00 am: Boys' JV vs. Ardsley
Noon: Girls' JV vs. Rye
1:30 pm: Girls' Varsity vs. Rye
3:30 pm: Boys' Varsity vs. Ardsley
5:30 pm: Boys' 8 vs. Rye            
Because of ongoing construction on Chambers Field through the end of May, additional youth games will be held in Tibbets Brook Park in Yonkers and in Rye.  
Tibbets Brook Park, Yonkers
9:00 am to 1:00 pm: Girls' 7A and Girls' 7/8B and Boys' 6 and Boys' 7
Rye
Girls' 4, 5, and 6 and Boys'4 & 5
The Bronxville girls' varsity team will be raising money for the One Love Foundation, whose mission is to educate people about healthy vs. unhealthy relationships, honoring the memory of Yeardly Love. BYLA will also be supporting the One Love Foundation by organizing several activities during the games to raise money and awareness, including a bake sale, One Love swag giveaways, and a photo booth that will feature messaging for the Love Better Campaign. A halftime highlight sure to please fans young and old will be a "take a shot" on NCAA championship goalie Scott Bacigalupo. Alumni collegiate players playing at the D1 level will be donating a combination of college gear and lessons that will be raffled or auctioned on behalf of the One Love Foundation. For more information on the One Love Foundation, visit its table near the food truck fairway.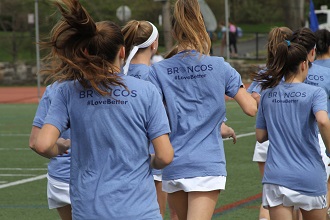 A food truck fairway will be located in the teachers parking lot on Meadow Avenue adjacent to Chambers and Hayes fields. Food trucks include Craig's Hot Dog, Crazy Taco-Mex, Mac's Food Truck, and Root & Vine Juice Bar. The Bronco Barn & Grill concession stand will also be open, with all your favorite candy, snacks, and drinks, and a bake sale with proceeds supporting the One Love Foundation will be held. Come to the early game and enjoy hot coffee and Park Place Bagels with the kids.
Please come out and support all the teams, One Love, and BYLA, and enjoy a great day of lacrosse.
Additional game details and times may be found at the Bronxville Athletic Department website. 
Broncos Together! Go Broncos!
Photos by S. Robinson
Editor's note: As a public service, MyhometownBronxville publishes articles from local institutions, officeholders, and individuals. MyhometownBronxville does not fact-check statements therein, and any opinions expressed therein do not necessarily reflect the thinking of its staff.