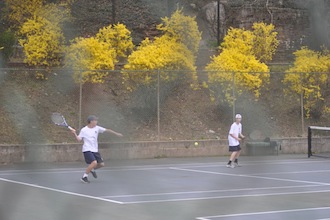 By S. Quinn DeJoy and J. Murrer

Apr. 17, 2019:  The boys' varsity tennis team lost its opening match of the season 4-3 to a strong Scarsdale team, and its home opener last Friday against Blind Brook was cut short because of rain. The Broncos could have finished the match against the Trojans, but only three of the five home courts are open, so they were unable to finish before the late-day rainstorm. They will not resume play until after spring break.
Junior Liam Krall, a nationally ranked junior player, is the top singles player for the Broncos. He made it to the state semifinals last year and was named All-Section after placing second in the sectional tournament. According to LoHud, Krall is one of the top six players in Section 1 this spring. On Friday, in the match against the Trojans, Krall won 6-1, 6-2 against Kazuma Tagawa.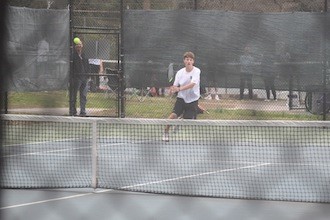 Top singles player Liam Krall in the match against Blind Brook.
Charlie Nordahl and Michael Swartz, captains of the team, are both juniors and were All-League players last year. Nordahl, who plays second singles, was winning 6-2 and 1-1 over Zach Kornblum when the match was stopped by rain. Swartz, at third singles, won 6-4 7-5 over Damian Cuk.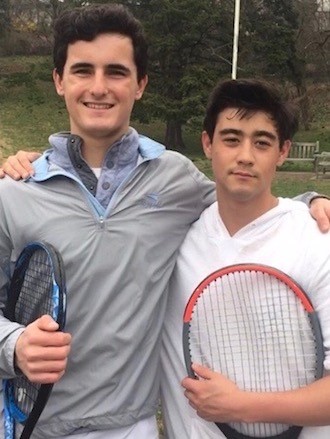 Tennis team captains Charlie Nordahl (L) and Michael Swartz. 
Playing first doubles for the Broncos are sophomores Nate Kim and Declan Broderick. Because of a shortage of courts, they were unable to play their match before the rain. Sophomores Manu Monogenis and Spencer Blumenreich, at second doubles, lost their match to Blind Brook in a third set tie-breaker. Also playing doubles for the Broncos is seventh-grader Harrison Brown, a very talented player who was also recognized by LoHud as one of the top players in the section.

Coach Chris Doyle is filling for Steve Klurfeld as the boys' tennis coach this season. Klurfeld is on sabbatical in England and should return next year.

It is spring break for the Bronxville School, and there are no scheduled tennis matches. The Broncos will be back in action on April 23 and 24 with home matches against Rye Neck and Hastings.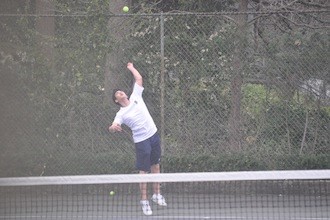 Michael Swartz in the home match against Blind Brook.
Pictured at top: Second doubles team, Manu Monogenis and Spencer Blumenreich, playing at the Bronxville Village Courts last week. 
Photos by J. Murrer