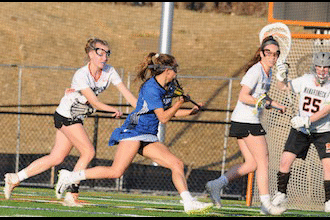 By S. Quinn DeJoy and J. Murrer

Apr. 10, 2019: The Bronxville boys' and girls' lacrosse teams are off to a strong start. The girls' team is 4-0 so far this season, and the boys are 3-1.
The Broncos girls moved up to number two in the LoHud Power Ranking with big wins over Mamaroneck (11-10), Brewster (12-7), and Suffern last week.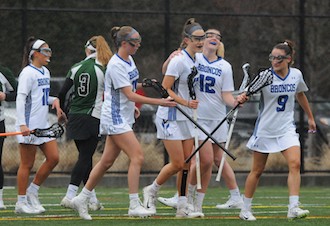 The Broncos celebrate after the win over Mamaroneck. Photo by J. Ircha.
It was a tight game against Suffern on Monday with the game tied at seven at halftime. Suffern quickly scored three goals in the second half, but Bronxville was not to be outdone and quickly answered back with three of their own. The Broncos had a one-shot lead toward the end of the game, but with 40 seconds left, the Mounties scored to send the game into overtime. Bronxville prevailed in overtime with a 14-13 victory.
Hanna Bishop scored nine goals in the Suffern game and four in the game against Mamaroneck. She has been a top scorer for the Broncos this season. Isabel Sondey had two goals and one assist in the Mamaroneck game and three goals and four assists in the Suffern game. Goalie Caitlin Mooney had four saves against the Tigers and eight saves against Suffern.
The Bronxville boys have a strong team this year and are currently "on the bubble" in the LoHud Power Rankings. They had a big 18-5 win over Section 9's Kingston on Saturday with eight different boys contributing to the scoring. Teddy Donohue led the team with seven goals, and Marco Winnershoff had eight saves for the Broncos.
In their first league game yesterday against Putnam Valley, the Broncos were able to come home with a 13-6 victory. Nate Davis and Grey Warble each had four goals.
The boys' team will have a home game against Danbury on Thursday at 5:00 pm, while the girls play away at Pleasantville at 4:30 pm.
Go Broncos.
Pictured at top (rotating): Caroline Ircha scoring for the Broncos in the game against Mamaroneck; no. 16 Isabel Sondey scores for Bronxville. 
Photos by J. Ircha