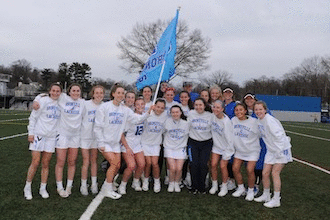 By S. Quinn DeJoy and J. Murrer

Apr. 3, 2019:  The spring season has arrived for the Broncos, who picked up multiple wins in their first week out. Eleven teams compete in seven sports during the spring: boys' and girls' lacrosse, boys' and girls' golf, boys' and girls' outdoor track and field, baseball, softball, boys' tennis, and mountain biking. Below is a recap of some of the opening week games.
Baseball
The baseball team picked up a 14-0 win in the first game of the season against Yonkers Montessori Academy. Junior captain Owen Jaquette was stellar on the mound, while Zip Malley and Theo Sperber each had two hits. In addition, Sperber led the way with 4 RBIs. The Broncos open at home on Thursday against Palisades Prep at 4:30 pm.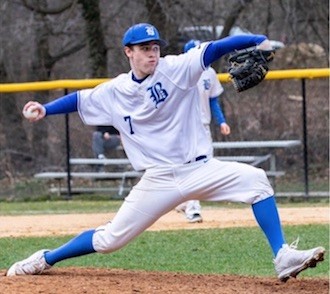 Owen Jaquette. Photo by Steve Malley.
Girls' Lacrosse
The Broncos moved from No. 5 to No. 3 in the Lohud Power Rankings with an 18-8 win over Albertus Magnus and a 19-5 victory over Fox Lane.  
In the home opener against Albertus last Thursday, Hanna Bishop scored four goals with five assists. Also scoring were Isabel Sondey (4G), Fiona Jones (3G, 1A), Caroline Ircha (3G), Anneke Pulkkinen (3G), and Betsy Marshall (1G). Caitlin Mooney had seven saves.
In Saturday's away game against Fox Lane, the Broncos kept up the momentum. Scoring in that game were Bishop (6G, 4A), Sondey (2G, 2A), Jones (1A), Ircha (4G), Pulkkinen (3G, 2A), Marshall (1G, 1A), Kiki Tormey (2G), and Victoria Ruffo (1G). Mooney had five saves.
This week, the Broncos face some strong opponents. They play No. 4 Mamaroneck today away at 5:00 pm and No. 7 Brewster at home on Friday at 4:15 pm.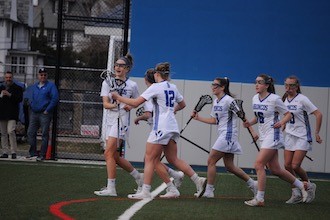 Girls' lacrosse. Photo by Jane Ircha.
Boys' Lacrosse
The Bronco boys were the first to open this spring, with a 16-4 win over Pelham on March 20. Tim Murray and Nate Davis had six goals apiece and Liam Ruddy had four saves. On March 24, they suffered a 15-5 loss to St. Anthony's, a very competitive New Jersey team. Yesterday, the Broncos had a solid win over Archbishop Stepinac 12-9. The team will go up against Kingston at home on Saturday at noon.
The team has played only much larger schools so far this season but will play its first league game next Tuesday against Putnam Valley. Bronxville is ranked No. 2 in Class D behind Pleasantville according to Lohud.
Outdoor Track and Field
Section 1 Conference 3 Kick-Off Meet
Outdoor track and field opened the season at the Section 1 Conference 3 Kick-Off at Ardsley High School on Saturday with twelve schools participating. As usual, the Bronco girls were top performers in the relays, winning the 4x100m (Alisa Kanganis, Sabrina Mellinghoff, Ava Downs, and Eve Balseiro), the sprint medley relay (SMR) (Kelly Weild, Kanganis, Maeve Sullivan, and Clio Dakolias), and the distance medley relay (DMR) (Avery Widen, Ava Black, Molly Palma, and Ella Stupart).
The Broncos also participated in and won a 4x100m co-ed relay with Mellinghoff, Balseiro, Seamus Watters, and Tommy O'Connell.
In field events, Milly Koenig set a new Bronxville School record in the long jump (15'-11"). For top-five finishes, see below. 
Girls' Results
100m: S. Mellinghoff, 1st, 13:24; M. Koenig, 2nd, 13.60; A. Downs, 4th, 14.06
100m high hurdles: Jules Gravier, 1st, 19.01
400m: E. Balseiro, 1st, 59.49; Caroline Brashear, 2nd, 63.11; Sophia Prior, 4th, 65.97
1500m. Emma Mandanas, 5th, 5:11.21
4x100m relay: 1st place, 51.26; K. Weild, M. Koenig, Lauren Rao, Donna Napolitano, 2nd, 53.89
SMR: 1st, 4:31.67
DMR: 1st, 13.28.25
Coed 4x100m: 1st, 48.37
Long Jump: M. Koenig, 1st, 15'11"
Boys' Results
100m: T. O'Connell, 4th, 11.91
400m: Alex Rizzo, 1st, 52.52; T. O'Connell, 4th, 53.85
1600m: Matt Rizzo, 1st, 4:38.78; Jack Kochansky, 3rd, 4:46.68; A. Rizzo, 4th, 4:57.44
110m hurdles: S. Watters, 1st, 15.95; Dylan Ruddy, 3rd, 20.21; Jed Donohue, 5th, 21.98
400m hurdles: S. Watters, 1st, 1:02.83; D. Ruddy, 5th, 1:09.09
4x100m relay: 1st, 48.73
4x100m throwers relay: 1st, 56.40
DMR: 3rd, 11.46.24
High Jump: Chris Kelty, 4th, 5'2"
Long Jump: C. Kelty, 5th, 17'
Tennis and golf open this week. The boys' golf team will play at home on Thursday against Mamaroneck, and the girls' golf team opened at home yesterday against Pelham. The boys' tennis team opens today at Scarsdale.
Go Broncos.
Pictured at top (rotating): The girls' lacrosse team at its home opener against Albertus Magnus (photo by Jane Ircha) and Bronco baseball in its opening game against Yonkers Montessori Academy (photo by Steve Malley).