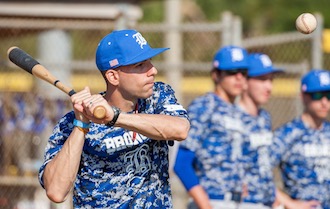 By S. Quinn DeJoy and J. Murrer

Mar. 20, 2019:  Anthony Vaglica returns as the Bronxville baseball coach after a three-year hiatus. Vaglica coached the Broncos from 2008 to 2015. He is currently a physical education teacher in the elementary school and has served as the teacher liaison to the athletic council for the past two years.
"I think he is exceptional," said Jane Sears, who served as a parent co-chair of the athletic council for three years. "He related really well to the kids, and they related to him. He was extremely organized, a motivator, and he had great ideas."
Vaglica was a pitcher for the Concordia Clippers from 2002 to 2006 before becoming a teacher and is now looking forward to coaching the Broncos again.
"Baseball has become very two dimensional--home runs and strikeouts," said Coach Vaglica. "Our goal is to get back to the basics; bunting, hitting and running, stealing bases, hitting the opposite way, etc."
The baseball team was very young last season, and many sophomores received significant playing time. As a result, the team brings back most of its key players.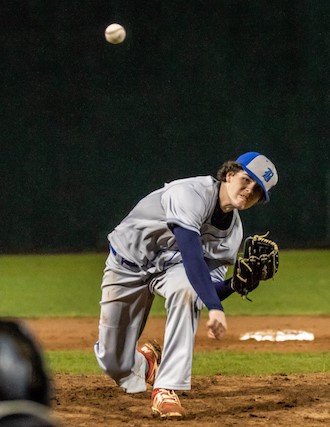 Junior Owen Jaquette. Photo by Steve Malley.
Senior Zip Malley brings five years of experience to the team and is a returning All-Section player. He will be playing for Middlebury in the fall. As an eighth-grader, Malley was moved up to the varsity team part way through the season.
"I was called up to the team during Coach Vaglica's last year," said Malley. "I was on JV and one of the middle infielders broke his finger so I played the second half of the season. "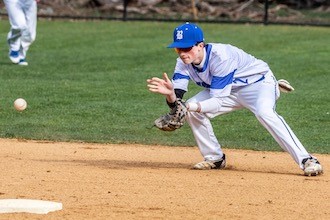 Zip Malley. Photo by Steve Malley.
Malley, who has been a captain on the team for the past three years, plays shortstop and sometimes comes in as a reliever. While practices are still challenging until the field is ready for use, Malley thinks the early spring practices are going well.
"Coach Vaglica is great. Everyone really likes what he is doing. It is kind of tough to practice indoors, but he is using the gym well. Coach posts a plan every day before practice so we know what to expect. He also sends an email every morning, which shows the players how much time he is willing to put in for us."
The Broncos return the majority of their lineup and have pitching depth to boot. The team is very junior heavy with leaders Jack Hommeyer, Theo Sperber, and Owen Jaquette, to name a few.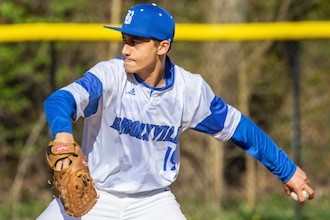 Theo Sperber. Photo by Steve Malley.
Assistant coaches Michael Sabatello and Michael Schultz, who also played for Concordia, will join Vaglica.
The Broncos open away on April 2 against Hastings and will open at home at Lower Scout Field against Palisades Prep on April 4.  
Go Broncos.
Pictured at top: Coach Anthony Vaglica. Photo by Steve Malley.