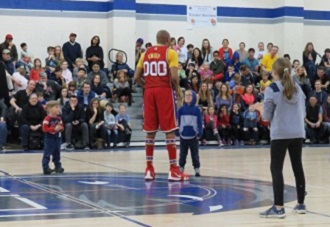 By Linda Pagano, Bronxville Parent and Bronxville Athletic Council member

Mar. 13, 2019:  Ten years and running, the Harlem Wizards have dazzled the Bronxville community with tricks and mind-blowing basketball skills. This year was no exception. On March 3, the Wizards came to Bronxville and played a Bronxville team made up of students and teachers in a sold-out event. With slam dunks, no-look passes, and jump shots from the 3-point line, the Harlem Wizards astonished the crowd. Over 500 tickets were sold, and proceeds support the Bronxville PTA Athletic Council.
"This will be my fifth year taking on the Harlem Wizards with my fellow Broncos," said Tricia Murray, principal of Bronxville High School. "The Harlem Wizards game is a great community-building event because it brings our community together in a really fun way and encourages teamwork."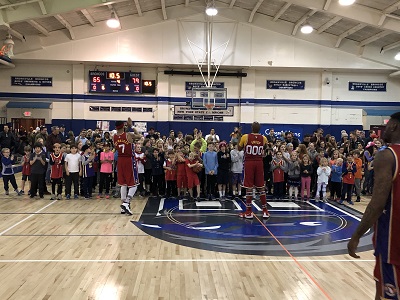 "The Harlem Wizards is always a great event because it not only raises money for the Athletic Council but brings the whole community together," said Bronxville sophomore Macklin Pettee. "I ran the clock this year and it was great to see the younger kids so ecstatic over the tricks the Wizards do. It's always an enjoyable day." Bronxville freshman Kiki Tormey said, "I'm excited to play in the Harlem Wizards event because it is something the little kids in the school community really enjoy."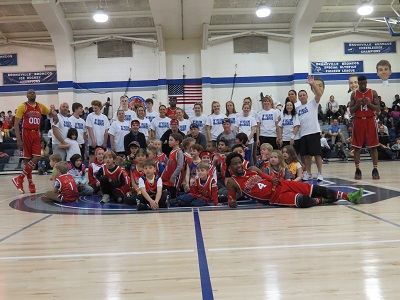 Dozens of coveted Wizards prizes were awarded for sideline antics and contestant winners. The event is so popular and well attended that it's sure to be enjoyed by generations of Broncos to come. 
Go Broncos!
First and third photos courtesy Katie Formato; middle photo courtesy Anthony Vaglica

Editor's note: As a public service, MyhometownBronxville publishes articles from local institutions, officeholders, and individuals. MyhometownBronxville does not fact-check statements therein, and any opinions expressed therein do not necessarily reflect the thinking of its staff.