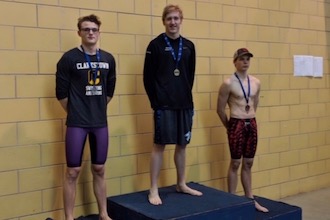 By S. Quinn DeJoy and J. Murrer     

Feb. 20, 2019:  The winter season is coming to an end, and in the last two weeks, Bronxville teams have competed in sectional championships. The girls' track and field team won the Class C title, and many individual Broncos won sectional titles. Below is a recap of the swimming, indoor track and field, and skiing sectional results.
Section 1 Swimming Championships
At the swimming championships held in the first week of February, the combined New Rochelle/Bronxville swim team (New-Bro) had some impressive finishes. Senior captain Tim Cushman won the 100 free in 46.77 and placed second in the 50 free in 21.66, qualifying for the New York State Championships in both events.
Cushman has been swimming on the high school team for six years and also swims with his club team, Empire Swimming, throughout the year. This is the fourth time Cushman has qualified for the state championships as an individual, and he will also compete at states in the 200 and 400 free relay teams.
The 200 free relay team, Cushman, Jonathan Carsen (New Rochelle (NR)-freshman), Michael Cohen (NR-freshman), and Finn Siebold (Bronxville (BXV)-junior), placed third at sectionals in a New York State qualifying time of 1:28.80. The 400 free relay team, Cushman, Carsen, Gavin Blenk (NR-freshman), and Siebold, also finished third in the sectional meet in a state qualifying time of 3:17.04.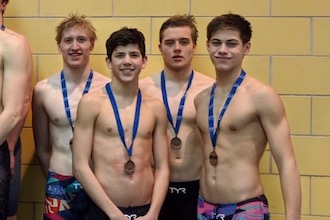 The New-Bro team placed sixth overall at sectionals, which included twelve events and twenty-five teams. Other strong finishes included a ninth-place finish for Siebold in the 50 free (22.55) and an eighth-place finish (1:44.31) for the 200 medley relay (Theo Veru (BXV-freshman), Narmeri Franklyn (NR-sophomore), Myles Dower (NR-junior), and Cohen).
The state meet will be the last race of Cushman's high school swimming career. Cushman and Siebold, along with seven New Rochelle swimmers, will represent the New-Bro team.
"I have actually really liked being on the combined team," said Cushman, who will swim for Dartmouth in the fall. "Everyone is welcoming, and we fit together pretty well. It is nice to meet new people that are not part of your school, and I have formed new friendships that have lasted six years."
The New York State Championships will take place on March 1 and 2 at the Nassau County Aquatic Center.  
Indoor Track and Field Section 1 Class C Championships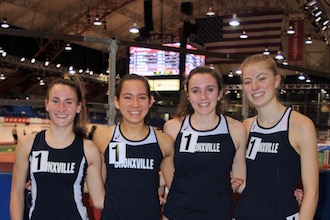 On February 11, the Bronxville girls won the Section I Class C Championship scoring 206 points, while second-place Albertus Magnus scored 73 points, and third-place Valhalla scored 57.
Sabrina Mellinghoff won the 55m dash in 7.46, breaking the Bronxville School record set by Halley Smith (7.54). Caroline Ircha moved from No. 3 to No. 2 on the all-time Bronxville 300m list with a time of 40.91 seconds; her time is second only to Eve Balseiro's (40.76). Balseiro had a great day at sectionals, placing first in three events: the 300m, 600m, and the 4x400m relay.
On Sunday, at the Section 1 State Qualifier, Balseiro placed third in the 300m in a state qualifying time of 40.96. The Bronxville girls' 4x40m relay (Balseiro, Caroline Brashear, Betsy Marshall, S. Mellinghoff, and Millie Koenig) will also head to states after placing first with a time of 3:58.97.
See below for All-League and All-League Honorable Mention finishes at the Section 1 Class C Championships.
55m dash: Sabrina Mellinghoff, 1st, 7:46; Caroline Ircha, 2nd, 7.56
300m dash: Eve Balseiro, 1st, 40.82; C. Ircha, 2nd, 40.91
600m: Clio Dakolias, 2nd, 3:02.02
3000m: Emma Mandanas, 2nd, 10:56.44
4x200m relay: C. Ircha, Milly Koenig, Alisa Kanganis, S. Mellinghoff, 1st, 1:46.19
4x400m relay: Betsy Marshall, Caroline Brashear, Maeve Sullivan, E. Balseiro, 1st, 4:14.35
4x800m relay: E. Mandanas, Rory Denning, C. Dakolias, Natalie Weiner, 1st, 10:04.24
Long jump: Remi Mellinghoff, 2nd, 14-3
Triple jump: Milly Koenig, 2nd, 32-4
Pole vault: Jules Gravier, 1st, 9-0; Molly Palma, 2nd, 8-6
Weight throw: Isabella Dibbini, 2nd, 23-4.5
The Bronxville boys came in second to Dobbs Ferry, 83-69. Alex Rizzo placed first in the 600m in 1:23.46, setting a new meet record. See below for All-League and All-League Honorable Mention finishes.
300m: Tommy O'Connell, 2nd, 36.85
600m: Alex Rizzo, 1st, 1:23.46
1000m: Jack Kochansky, 1st, 2:42.98
55m hurdles: Seamus Watters, 1st, 7.92
4x200m relay: Seamus Watters, Tim Murray, Connor Randall, and Tommy O'Connell, 2nd place, 1:37.18
4x800m relay: Ellis Goodson, Jay Burnstein, J. Kochansky, and A. Rizzo, 2nd place, 9:05.36
Section 1 Skiing Sectional Championships
The Bronxville/New Rochelle ski team had six skiers qualify for sectionals this year. Sectionals were held at Catamount Ski Area in Hillsdale, New York, where skiers competed in slalom and giant slalom.
Sectional qualifiers
Jack Schlamkowitz: New Rochelle junior, 2nd year returning to team
Jessica Schlamkowitz: New Rochelle freshman, 1st year on team
Bridget Sands: BHS senior, 1st year on team
Phillip Meyers: BHS junior, 3rd year on team
Piper Gilliam: BHS freshman, 3rd year on team
Bailey Gilliam: BHS 7th-grader, 1st year on team
Go Broncos
Pictured at top: Tim Cushman (center) on the podium after winning the sectional title in the 100 free. 
Top Photo courtesy T. Cushman