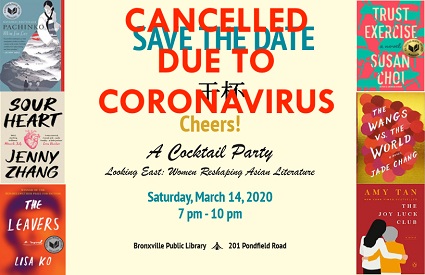 By Irena Choi Stern, board member, Friends of the Bronxville Public Library
May 20, 2020: On March 11, three days before its scheduled benefit "LOOKING EAST: Women Reshaping Asian Literature," the Friends of the Bronxville Public Library made the painful decision to cancel, given the growing concerns about the spread of the coronavirus. 
The very next day, Governor Andrew Cuomo announced limits on public gatherings throughout the state. Despite the dire circumstances and ominous outlook, community support for its library remained steadfast, and only one refund request was made.
"We have been overwhelmed by the enormous community support for the Library and its programming, which is only possible through the generosity of its patrons," said Dina Grant, FOBPL president. "We were concerned that the cancellation of our main fundraiser would have a deleterious impact on our ability to underwrite Library programs and services but, thanks to this extraordinary community, we will be able to move forward as before."
The Friends of the Bronxville Public Library funds all the adult and children's programming and continues to offer virtual programming during the quarantine. It underwrites a popular museum pass program to New York City institutions and expands the availability of e-books. 
A special task force is examining ways to enhance the Teen Room and make it more appealing and useful to young adults.
The impressive art collection that graces the library's walls is also supported by the FOBPL, primarily through a restoration fund. 
In recent years, the FOBPL has funded the purchase of the new Children's Room circulation desk, and a new projector and flat-screen television for the Yeager Room. 
Soon, an additional park bench for library visitors will grace the rolling green lawn outside the library and, in recognition of the community's generosity, the plaque mounted on it will read: Made Possible by Community Support for the Friends of the Bronxville Public Library.
Photo courtesy Friends of the Bronxville Public Library

Editor's note: As a public service, MyhometownBronxville publishes articles from local institutions, officeholders, and individuals. MyhometownBronxville does not fact-check statements therein, and any opinions expressed do not necessarily reflect the thinking of its staff.