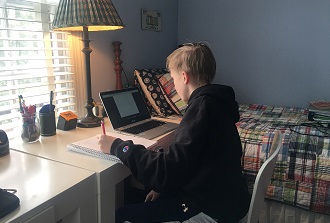 By Staff
March 18, 2020: The Bronxville School Board of Education convened an emergency Board Meeting on Friday, March 13, and later that day announced that the school is transitioning to a "remote learning environment effective Monday, March 16 and for the foreseeable future."
Given the COVID-19 crisis, the school had been planning for this possibility, and the high school had done a pilot test, so the school was ready to go.
Children in the school are now taking their classes from home. They are using a combination of google classroom products and Zoom conferencing.
MyhometownBronxville reached out to Bronxville School Superindentent Roy Montesano to find out how distance learning is going. Montesano said "While we realize it will not replace being in school, we are confident we can keep learning moving in a positive direction. So far, the feedback has been positive and I think it will keep improving as we move forward."
He also said that the Bronxville School "is very fortunate to have a professional staff and a supportive community as we navigate this new reality."
The school also announced that they suspended all co-curricular programs, including athletics, and that "group gatherings on our athletic facilities are prohibited."
The March 13 announcement from the school urged students and families "to support recommended public health measures including social distancing, staying out of close contact in crowded public spaces, and avoiding mass gatherings."
In a subsequent announcement on March 16, Roy Montesano and Bronxville Mayor Mary Marvin urged parents to explain to their children that "the only way to slow the spread of this disease is to significantly limit close person-to-person contact for the time being."
On March 16, the Village also declared a State of Emergency and set an 8 PM curfew for everyone 18 years and younger. Click here to read the complete March 16 announcement.
Click here to read "COVID-19 Updates" from the school.
Pictured: Bronxville School Board of Education
Photo by S. Clifford