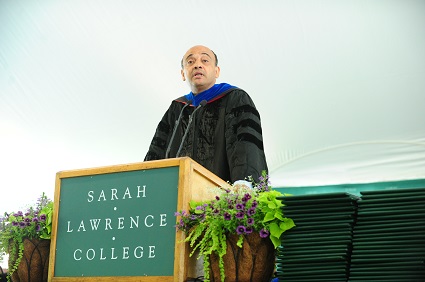 By Brendan O'Callaghan, Director, Public Affairs, Sarah Lawrence College
Nov. 13, 2019:  Sarah Lawrence College welcomes best-selling author and professor Kwame Anthony Appiah to campus to discuss his new book, The Lies That Bind: Rethinking Identity, in a conversation with Sarah Lawrence President, Cristle Collins Judd. A Q&A with audience members will follow. 
The event is on November 14 from 7:00 PM to 8:30 PM in the Barbara Walters Campus Center, Room B.  The event is free and open to the public! 
The Lies That Bind: Rethinking Identity explores the nature and history of the identities that define us and challenges our assumptions about how identities work.
Who do you think you are? That's a question bound up in another: What do you think you are? Gender. Religion. Race. Nationality. Class. Culture. Such affiliations give contours to our sense of self and shape our polarized world. Yet the collective identities they spawn are riddled with contradictions and cratered with falsehoods.
This conversation will discuss how identities are created by conflict, religion's role in Identity, how our everyday notions of race are the detritus of discarded 19th-century science, and how class systems can become entrenched by efforts to reform them. Are social identities something we can simply do away with? Can they usher in moral progress and bring significance to our lives by connecting the small scale of our daily existence with larger movements, causes, and concerns?
This conversation will change the way we think about who―and what―"we" are.
Kwame Anthony Appiah pens the Ethicist column for The New York Times and is the author of the prize-winning Cosmopolitanism, among many other works. A professor of philosophy and law at New York University, Appiah lives in New York.
Questions? Contact the Office of College Events at  CLOAKING
Pictured:  Professor and author, Kwame Anthony Appiah
Photo courtesy Sarah Lawrence College

Editor's note: As a public service, MyhometownBronxville publishes articles from local institutions, officeholders, and individuals. MyhometownBronxville does not fact-check statements therein, and any opinions expressed do not necessarily reflect the thinking of its staff.