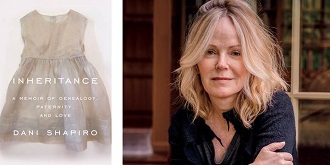 By Ellen de Saint Phalle, Director of Community Relations, Sarah Lawrence College
Jun. 5, 2019:  Sarah Lawrence College is delighted to present New York Times best-selling author in a discussion titled "Dani Shapiro in Conversation with President Judd" on Saturday, June 8, at 11:00 am in The Performing Arts Center Reisinger Auditorium. 
The program, a featured event of reunion weekend, is free and open to the public. Dani Shapiro is the best-selling author of the memoirs Hourglass, Still Writing, Devotion, and Slow Motion and five novels, including Black & White and Family History. Her short fiction and essays have appeared in the New Yorker, Granta, Tin House, One Story, Elle, the New York Times Book Review, and the op-ed pages of the New York Times.  Her most recent memoir, Inheritance, published in January by Knopf, is a New York Times bestseller.
In 2016, Dani Shapiro whimsically submitted her DNA to a genealogy website for analysis and received the stunning news that her father was not her biological father. Inheritance is the story of Shapiro's urgent quest to unlock the story of her own identity, a story scrupulously hidden from her for more than fifty years, years she had spent writing on themes of identity and family history. It is a book about the extraordinary moment we live in--a moment in which science and technology have outpaced not only medical ethics but also the capacities of the human heart to contend with the consequences of what we discover.
The New Yorker called the book "unsettling...a meditation on what it means to live in a time when secrecy, anonymity, and mystery are vanishing. [Inheritance] encapsulates an ethical quandary with which our society has yet to fully grapple."
Shapiro earned her undergraduate and graduate degrees from Sarah Lawrence College. She has taught workshops around the world and at Columbia and New York University. She is the co-founder of the Sirenland Writers Conference in Positano, Italy.
In February of 2019, she launched an original podcast called Family Secrets in collaboration with iHeart Media. The podcast features stories from guests who, like Dani, have uncovered life-altering and long-hidden secrets from their families' past.
For more information, please contact CLOAKING .
Photo courtesy Sarah Lawrence College 

Editor's note: As a public service, MyhometownBronxville publishes articles from local institutions, officeholders, and individuals. MyhometownBronxville does not fact-check statements therein, and any opinions expressed therein do not necessarily reflect the thinking of its staff.