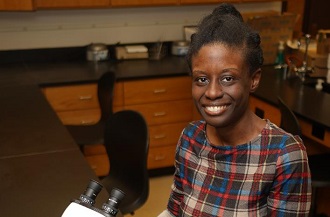 By Rebecca Portnoy, Communications Manager, Concordia College      

Apr. 10, 2019:  A new class of synthetic antibiotics may one day be a reality thanks to the work of Concordia College New York assistant professor of biology Dr. Francine Morris.
According to the World Health Organization, a growing number of infections are becoming harder to treat as bacteria change in response to antibiotics, creating a daunting challenge to global health, food security, and development. As new resistance mechanisms emerge and spread, antibiotics are becoming increasingly ineffective.
Dr. Morris (along with Dr. Caren L. Freel Meyers and Ryan J. Vierling) developed the patented strategy while working on her PhD. She demonstrated that it is possible to effectively target a particular protein within a microbe (of which bacteria are a type). Scientists had previously underestimated the potential of the protein upon which she focused her research.
The implication for antibiotic development is profound. Using Dr. Morris's patented design strategy (aromatic acyl phosphonates as selective inhibitors of DXP synthase), an entirely new class of antibiotic could be developed – one with a much longer time frame for developing resistance in bacteria. Click here for an article she co-authored.
Dr. Morris said, "I hope that someone will pick up on the idea. When it comes to microbes, it's more their world than ours."
Dr. Morris earned her PhD in chemical biology at Johns Hopkins University. She also holds a master's degree in chemistry from Emory University and a bachelor's degree in chemistry, cum laude, from Bryn Mawr College. She has performed research at Albert Einstein and other institutions, has received several fellowships and awards, and has contributed work to various scientific publications and presentations. Dr. Morris's goal in teaching is to make the sciences accessible to all students, perhaps inspiring them to join the field.
Pictured here:  Concordia professor Francine Morris. 
Photo courtesy Concordia College

Editor's note: As a public service, MyhometownBronxville publishes articles from local institutions, officeholders, and individuals. MyhometownBronxville does not fact-check statements therein, and any opinions expressed therein do not necessarily reflect the thinking of its staff.