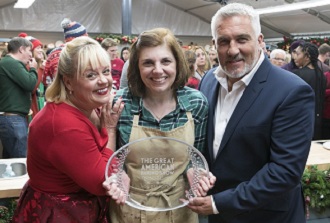 By Rebecca Portnoy, Communications Manager, Concordia College

Mar. 27, 2019:  On Monday, April 1, Concordia College will present an interview with Tina Zaccardi, winner of The Great American Baking Show: Holiday Edition. The event, titled "Pursuing Your Passion," will take place at 7:00 pm in the Sommer Center for Worship and the Performing Arts on the campus of the college.
An Eastchester resident with a lifelong passion for baking, Zaccardi beat out ten contestants to win the title of "America's Best Amateur Baker" on Season 4 of ABC's hit show. She will talk about the long process of becoming a final contestant, the month she spent shooting the show in England, and the importance of following your dream.
Zaccardi has even promised to bring some of her baked goods to the interview, which is free and open to the public.
Photo courtesy Concordia College
Editor's note: As a public service, MyhometownBronxville publishes articles from local institutions, officeholders, and individuals. MyhometownBronxville does not fact-check statements therein, and any opinions expressed therein do not necessarily reflect the thinking of its staff.