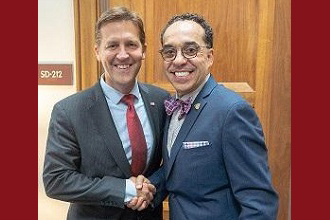 By Rebecca Portnoy, Communications Manager, Concordia College

Mar. 13, 2019:  Dr. Ben Sasse, U.S. Senator for Nebraska, will address the graduates at the commencement ceremonies of Concordia College New York's 138th academic year. Commencement is set for May 19, 2019, at 2:00 pm. An honorary doctor of humane letters will be conferred upon Senator Sasse at the ceremony.
Click here to see the video announcement of Sasse as commencement speaker by Dr. John A. Nunes, president of Concordia College.
A prominent politician, respected academic, and best-selling author, Senator Sasse was the president of Midland University (formerly Midland Lutheran College) in Fremont, Nebraska, before he was elected to the United States Senate in 2014. He previously served as an assistant secretary in the U.S. Department of Health and Human Services.
The native of Fremont holds a bachelor's degree in government from Harvard University, an MA in liberal studies from the Graduate Institute at St. John's College, and MA, MPhil, and PhD degrees in history from Yale University. He is the author of The Vanishing American Adult (2017) and Them: Why We Hate Each Other--and How to Heal (2018).
Dr. John A. Nunes said, "I am delighted that Concordia's graduates will have the opportunity to learn from, and be inspired by, Senator Ben Sasse. He is a man of deep faith and a scholar of extraordinary intellect, a gifted communicator, and an energetic advocate for civil discourse, all qualities we strive to instill in our students."   
Pictured here:  Senator Sasse (L) with Concordia President John Nunes.
Photo courtesy Concordia College
Editor's note: As a public service, MyhometownBronxville publishes articles from local institutions, officeholders, and individuals. MyhometownBronxville does not fact-check statements therein, and any opinions expressed therein do not necessarily reflect the thinking of its staff.