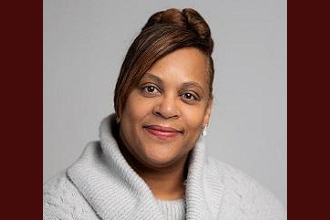 By Rebecca Portnoy, Communications Manager, Concordia College

Jan. 23, 2019:  Concordia College New York has named Viviana DeCohen the college's inaugural director of military and veteran affairs. DeCohen is charged with all facets of growing and supporting the college's student veteran population. Concordia College New York is proud to participate in the Post-9/11 GI Bill Yellow Ribbon Program, easing the way for eligible veterans and dependents to use their education benefits.
DeCohen brings to the college over 20 years of experience in veteran services and health care. Prior to joining Concordia, she served as the program manager and military/veterans counselor at Mercy College. She has a master's degree in health services management and a bachelor's degree in behavioral science from Mercy College. She is a veteran of the United States Marine Corps. DeCohen also serves as the associate pastor of Mount Vernon Heights Congregational Church, and in 2018 she was named as one of the Bronx Times Reporter's 25 Influential Women for the impact she makes in the borough.   
John McLoughlin, senior director of enrollment, said: "The college is implementing a portfolio of programming to support active duty military, members of the Guard/Reserves, veterans, spouses, and dependents who are current or prospective student veterans. We are very excited to have Viviana DeCohen spearheading those efforts as director of military and veteran affairs."   
Viviana DeCohen said: "As a veteran, I have lived the many challenges veterans face in building civilian lives after military service. I am honored to bring to Concordia College my experience in helping veterans make successful transitions from service to education. I look forward to working with current and prospective students and our community partners in veteran support."
Pictured here:  Viviana DeCohen.
Photo courtesy Rebecca Portnoy, Communications Manager, Concordia College
Editor's note: As a public service, MyhometownBronxville publishes articles from local institutions, officeholders, and individuals. MyhometownBronxville does not fact-check statements therein, and any opinions expressed therein do not necessarily reflect the thinking of its staff.