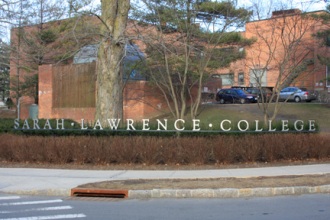 By Ellen C. de Saint Phalle, Director of Community Relations, Sarah Lawrence College

Oct. 10, 2018:  Sarah Lawrence College will present the second annual Celebrate Sarah Lawrence, a showcasing of student and faculty work, on Friday, October 12, from 4:00 to 6:00 pm. The program will be held both inside and outside the Heimbold Visual Arts Center and will feature science demonstrations, dance, music, theater, writing performances and readings, and visual arts displays.
"Celebrate Sarah Lawrence is a wonderful opportunity for our neighbors and friends to engage in the vibrant cultural and intellectual life of the college," said President Cristle Collins Judd. "It is also a fun and relaxed way to get to know our talented students and faculty and learn about the exciting work they are doing here on campus."
Participants will enjoy outdoor demonstrations, including a science encounter with elephant toothpaste; theater performances from Sweeney Todd and Pride and Prejudice; musical performances by the Chamber Improvisation Ensemble and the Sarah Lawrence Funk Ensemble; and the chance for a photograph with Sarah Lawrence mascot Godric the Gryphon.
Inside exhibitions include student and faculty drawings, photographs, and paintings. Donnelley Theater will feature rapid-fire readings, poetry slams, and films. Students will also demonstrate their work and research in the areas of psychology, physics, chemistry, biology, languages, math, and computer science. Presentations by The Center for the Urban River at Beczak, The Right to Write program, and graduate programs will also be included. 
This event is free and open to the public and includes a dessert reception with light refreshments. Click here for the full schedule of events. 
Photo by N. Bower

Editor's note: As a public service, MyhometownBronxville publishes articles from local institutions, officeholders, and individuals. MyhometownBronxville does not fact-check statements therein, and any opinions expressed therein do not necessarily reflect the thinking of its staff.