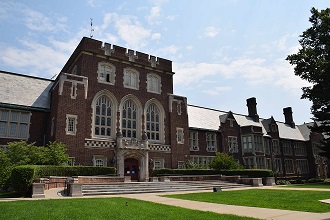 By Michael Ganci, Syntax for The Bronxville School
May 6, 2020: A group of Bronxville High School freshmen and sophomores earned top honors at the prestigious 2020 Lower Hudson Valley Regional National History Day Competition.
The students – who had been conducting extensive historical research on a topic of their choice over the last several months – electronically submitted their work to be judged by professors and scholars. Focused on this year's National History Day theme of "Breaking Barriers in History," their work was displayed in one of five ways – paper, website, documentary, performance, or exhibit. 
"All students who competed at the regional level this year had to embody the theme of 'breaking barriers,' as they needed to shift how their projects were judged and foresee the types of questions that would have been asked in their interviews when they submitted their images, transcript of projects and reflection," said teacher Dana Landesman, who oversees the program with Kris Hart, Bill Meyer, and Christina Reidel. "We are so proud of all of their hard work and effort." 
Similar to the regional competition, the New York State National History Day competition will be held virtually. 
Congratulations to the following students who earned awards in these categories: 
Research Paper: 
-Isaiah Weir – First place 
-Aarna Pal-Yadav – Second place 
Documentary (Individual): 
-Amelia Grullon – Second place 
Documentary (Group): 
-Olivia Cevasco and Rowan Baror – first place 
Exhibit (Individual): 
-Jack Evans – First place  

-Thomas Garofalo – Third place  
Exhibit (Group): 
-Eliza Brennan, Elizabeth Burnell, Maya Madhavan, Bethany Lee, and Sydney Tuck – First place 
-Joseph Cutaia and Jeremy Freeman – Second place 
Website (Individual): 
-Conner Huang – Second place 
-Teresa Markola – Third place 
Website (Group): 
-Erin Foley, Caroline Ircha, Carmen Phillips, Molly Stoltz, and Alice Vranka – First place 
-Edmond Hannigan, Alexander Kupersmith, and Theodore Veru – Third place  
Performance (Individual): 
-Alex Rice – First place 
Performance (Group): 
-Jake Berman and Hudson Zivic – First place 
Photo courtesy of the Bronxville Union Free School District
Editor's note: As a public service, MyhometownBronxville publishes articles from local institutions, officeholders, and individuals. MyhometownBronxville does not fact-check statements therein, and any opinions expressed do not necessarily reflect the thinking of its staff.