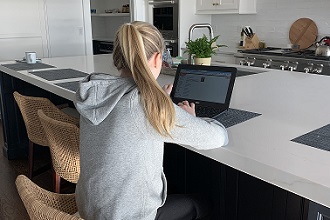 By Katharine Outcalt
Mar. 25, 2020: The Bronxville's School Board of Education met via video conference on Thursday, March 19, 2020, in accordance with Governor Cuomo's Executive Order 202, which prohibits the gathering of large groups during the COVID-19 emergency.
Jon Atkeson, Bronxville's School Board President, conducted the meeting via Zoom conferencing with all board trustees and presiding administration present. The meeting centered around the current state of the Bronxville School on day 4 of the school's transition to remote learning.
Bronxville School Superintendent, Dr. Roy Montesano, painted a picture of moderate success given the circumstances that all students and administrative staff members have suddenly found themselves at home attempting to instruct and learn virtually from programs that are new to the majority.
Montesano commented that the school is "so fortunate that we have a great administrative team and professional staff that have really stepped up big time and have done a lot of work in a short period of time."
Describing the efforts of the administration, Montesano further commented, "We've all focused on one thing, and that is to try to continue the education as best we can given the circumstances that we have for our kids."
Bronxville's three principals offered reports on the distance learning experience in their respective schools.
Elementary School Principal, Tricia Murray, described a "really successful first week." Middle School Principal, Dr. Tom Wilson commented, "The faculty has been outstanding. We hope that as we add value and move toward video conferencing, it will be improved even more." Both the elementary and middle schools are using Google Classroom as their instruction platform.
High School Principal Ann Meyer is working to keep students engaged and connected while they struggle with a sense of uncertainty as events they have been looking forward to get postponed or canceled.
She is encouraging all clubs to meet virtually and has announced that all regularly scheduled meetings are continuing. "We are really shifting as much as we can to these digital platforms so that our regularly scheduled activities, maybe in a slightly different format, are able to continue."
Assistant Superintendent Dan Carlin finished the meeting with a silver lining. In his facilities report, he noted that with the absence of students, the construction workers have the run of the building. Construction is moving ahead swiftly.
The School Board's next meeting is scheduled for Tuesday, April 21, unless the COVID-19 emergency gives them a reason to meet earlier.