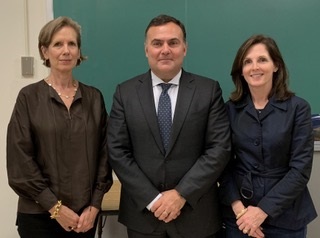 By Kelly M. Dolan, Board Member Bronxville School Foundation
Nov 6, 2019: The Bronxville School Foundation kicks off its 29th year with three new board members as well as a new slate of officers for the upcoming school year. Over the years, the nonprofit organization has given more than $10 million in grants to The Bronxville School to enhance the quality of education by funding new curriculum, technology, faculty training, facilities projects, and special materials and equipment.
Following are biographies of the new board members.
Giovanni Cutaia received a BA from Colgate University and an MBA from the Tuck School of Business at Dartmouth College.  Gio currently works at Blackstone and is their Global Head of Asset Management for their real estate group.  Gio is a member of Colgate University's Board of Trustees, Tuck's MBA Council and a Board of Governor at The Real Estate Board of New York. 
Gio and his wife Maree moved to Bronxville in 2010 after living in London for over eight years. They have two children attending the Bronxville School. 
Mary Gay received a BS degree from the University of Richmond and an MBA from New York University.  Mary works at Arrowhead Investment Management, where she manages a private debt fund that invests in middle market securities.  Mary has been involved with the Bronxville community, since moving to Bronxville in 2007, having served on the RCNS Board, as a Sunday School teacher at Reformed Church and most recently serving as the Bronxville High School Council treasurer.  Mary and her husband, Bill, have two sons that are graduates of Bronxville High School and one son that is currently in the Bronxville Middle School. 
Lia Gravier (ex officio member, president-elect PTA) has lived in Bronxville since 2010. At the Bronxville School she has been a class parent and from 2013-2016 she coordinated the James E. Kearney Memorial Day Run for Fun. This year, she is co-chairing the BOLD Council as well as sitting on the PTA executive council. In addition, she has served on the Board of the Concordia Conservatory and served as the President of the Friends of the Bronxville Public Library. Prior to having children Lia worked in the non-profit world as a publicist and graphic designer. For many years she managed the PR for the Museum of the City of New York and was the Publications Coordinator at the West-Side YMCA. Lia grew up in Rhode Island and received her BA in Philosophy and art history from Saint Anslem College. She and her husband Joe, have three children. A son and daughter who currently attend the Bronxville School and a daughter who graduated in 2018.
Lisa H. Sorensen (BHS, Class of 1980) received a BA from the College of Wooster in Wooster Ohio with a major in Art History. After graduating, she continued her studies at the School of Visual Arts and the International Center of Photography (ICP) in NYC.  She worked as a photo editor at Irena Chalmers Books before starting her photography business, Lisa Sorensen Photography, where she has worked as a portrait and fine art photographer for the past 30 years. She also teaches private photography lessons to high school students. Lisa is the visual merchandiser and co-buyer for The Silk Road in Bronxville. She has served on the board of the Bereavement Center of Westchester and currently serves on the Maxwell Institute Advisory Board. She has served as a Deacon and chairman of the Pastoral and Congregational Care Council at the Reformed Church of Bronxville. She and her husband, Dan Johnson, have served as confirmation mentors to many of the eighth graders at the Bronxville School.
"We are very excited to welcome our new board members to the Foundation. They bring an exceptionally broad array of experience, talent and commitment to our board. We welcome them and look forward to working with them," said newly elected chairperson Eddie Sulimirski. Formerly co-vice president of the grants committee, Eddie has been elected Chairman of the Board, replacing outgoing Chairman Romy Coquillette. Eddie joined the Foundation board in 2014. In addition to his work on grants, he also served on the finance and alumni committees.
The other directors and officers for 2019-20 are Romy Coquillette, Vice Chairman; Nancy Marshall, VP development; Eileen Casey Marshall, VP grants; Erin Krestinski, VP alumni affairs; Kristen Evans, VP public relations; Kelly M. Dolan, VP nominating; Vincent McBride, VP finance; John Kelty, VP legal; Jane Goodell, secretary; Peggy Benziger Williams, executive director. Returning board members are Lori Beecher, Brian Bodell, Robert Crystal, Won Giuriceo, Joseph Hutchins, Christopher Krieg, Jennifer Lescott, Lansing Martinelli, Priscilla Newman, Robert O'Hare, Jr., David Outcalt, Ian Putnam and Tom Welling. Additional ex officio members include the superintendent of the Bronxville schools, Roy R. Montesano and Michael Finley, School Board representative. 
If you have any questions or would like to learn more about The Bronxville School Foundation, please contact Peggy Williams, executive director, at 395-0515 or any of the board members or visit www.BronxvilleSchoolFoundation.org.  Donations also welcome!
Pictured here (L to R): Lisa Sorenson, Giovanni Cutaia and Mary Gay (not shown here: PTA vice president-elect Lia Gravier)
Photo courtesy The Bronxville School Foundation

Editor's note: As a public service, MyhometownBronxville publishes articles from local institutions, officeholders, and individuals. MyhometownBronxville does not fact-check statements therein, and any opinions expressed do not necessarily reflect the thinking of its staff.