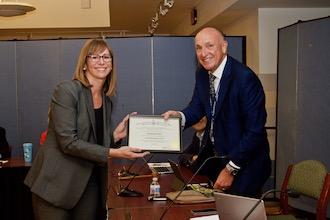 By Carol Bartold, Senior Reporter
Sep. 25, 2019: "We had a very nice opening. People came back very enthusiastic with a lot of positive energy," Bronxville School Superintendent Dr. Roy Montesano said about the new 2019-2020 academic year.
Montesano presented elementary school Principal Trisha Murray with a certificate from the New York State Department of Education naming Bronxville Elementary School a Recognition School. Recognition Schools demonstrate high academic achievement and student growth under the New York Every Student Succeeds Act Plan.
In his remarks to the Bronxville Board of Education at its regular meeting on September 19, Montesano reported that the school opened the year with a total of 1,640 students in all three schools, one student shy of the projected total of 1,641. The high school has 557 students enrolled, the middle school 400 students, and the elementary school 683 students. Overall, from the 2018-2019 year, high school enrollment increased by eighteen students and middle school enrollment by fifteen. The elementary school has seven fewer students.
The high enrollment "bubble" that moved through the middle school entered high school this year, making the ninth grade, with 145 students, the largest class in the high school. Grade 5 also has 145 students, necessitating the addition of an extra class section.
Average class size in all three schools compares favorably with that of prior academic years. The average elementary school class size is 20.5 students. In the middle school, core subject sections of English, mathematics, science, and social studies have an average of 21.6 students. Average class size in the high school is 20.2 students, with most classes having 24 students or fewer.
Dan Carlin, assistant superintendent for business, reported that the library is expected to open for student use during the first week of October. Work slowed down, he said, because of items that have long lead times for delivery and completion. Countertops and overhead LED light fixtures are expected to arrive in the next two weeks.
The storm water connection from Meadow Avenue to the flood mitigation pump system on campus is expected to be completed by October 15. Although the contractor started work later than anticipated, Carlin stated that crews have done excellent work, safely, with minimal room to work in.
Per Carlin, work on the Meadow Avenue addition is scheduled to begin in December. That will be preceded by work on the third floor, which will be done on second shift, after school hours. Classrooms impacted by the work will not be taken offline until summer 2020. Work during the current school year will be on outside projects only.
Carlin also reported that the district recently sold $20 million in bonds to finance the large capital plan approved by referendum in March 2018. He noted that the favorable interest rate on the bonds, at less than two percent, will allow the board of education to consider some of the projects that had to be eliminated from the original plan when bids received were higher than anticipated. The low-interest rate gives the district an additional $2.5 million to $2.7 million in flexibility to issue more bonds and still keep the overall capital project tax neutral. Additional bonds could be issued only by referendum.
The Bronxville Board of Education will meet on Thursday, October 17, at 7:00 pm in the school's multipurpose room.
Pictured here:  Tricia Murray, Bronxville School Elementary School principal, and Roy Montesano, Bronxville School superintendent, displaying certificate from New York State Department of Education.
Photo by N. Bower