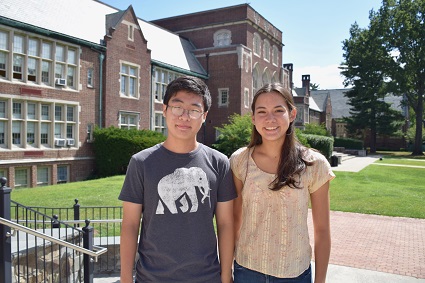 Contributed by Michael Ganci, Syntax, for The Bronxville School
Sep. 25, 2019:  Accomplished Bronxville High School seniors Brian Li and Sabrina Mellinghoff have been named semifinalists in the 2020 National Merit Scholarship program. They are part of the top 1% of students nationwide who were awarded the distinction.
"We are extremely proud of Sabrina and Brian, two well-rounded students who exemplify the tenets of the Bronxville Promise in all that they do," Principal Ann Meyer said.
Li and Mellinghoff are among 16,000 high school students nationwide to be awarded the distinction by the National Merit Scholarship Corporation for earning some of the highest scores on the 2018 Preliminary SAT/National Merit Scholarship Qualifying Test, which served as an initial screen of entrants. More than 1.5 million students from more than 21,000 high schools entered the academic competition by taking the qualifying test as juniors.
Mellinghoff, who was a member of her high school's National History Day team, which earned first place in the finals of the 2018 national contest, now mentors freshmen and sophomore students in their work on National History Day. 
"Sabrina is not only academically successful, she is also a star runner," her counselor, Ellen Cohen, said. "She is a talented musician in our orchestra, and one of her favorite periods of the day is Advanced Placement Music because she and her ninth-grade sister have strategically planned to take one class together before Sabrina graduates. They love having time together within the school day."
Li is president of the Math Club, runs cross-country, and tutors at-risk students in Mount Vernon through Destination College. He has also done scientific research in a lab at Emory University.
"Brian is someone who is always caring for others," said Cohen, who is also Li's counselor. "He loves learning. His former English teacher relayed that Brian will draft and redraft his writing, as he is dedicated to always do his best."
According to its website, the National Merit Scholarship program honors students who show exceptional academic ability and potential for success in rigorous college studies. The program will award approximately 7,600 scholarships worth more than $31 million next spring. To become a finalist, the students must submit a detailed scholarship application, demonstrate an outstanding academic record, write an essay, and earn scores that confirm their earlier performance on the qualifying test. About 90% of the semifinalists will advance to the next round, and about half of the finalists will win a National Merit Scholarship.
National Merit Scholarship finalists will be announced in February, while scholarship winners will be announced in the spring. 
Pictured here (L to R): Bronxville High School seniors Brian Li and Sabrina Mellinghoff.
Photo courtesy The Bronxville School
Editor's note: As a public service, MyhometownBronxville publishes articles from local institutions, officeholders, and individuals. MyhometownBronxville does not fact-check statements therein, and any opinions expressed do not necessarily reflect the thinking of its staff.