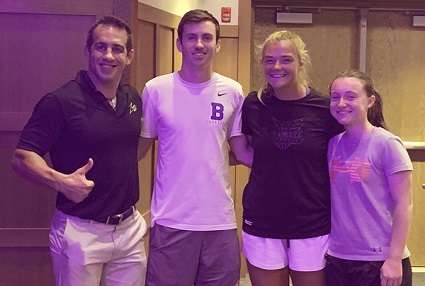 By Kelly Dolan, Member, Board of Directors, The Bronxville School Foundation
Sep. 25, 2019:  The Bronxville Broncos kicked off preseason this fall with an inspirational presentation and interactive discussion led by Gene Zanetti of The Winning Mindset, a mindset-training program that helps athletes and students reach their full potential. The students attended Gene's dynamic presentation, one of several Winning Mindset workshops that will be offered throughout the school year, thanks to a generous grant from The Bronxville School Foundation. 
Zanetti spoke about being mentally prepared for all situations and engaging in "strength training for the mind." He told students that they can always control their effort, attitude, and aggressiveness and can remind themselves to work on those before each practice, game, or test. The lesson here: to win more and do more of what works and less of what doesn't. This type of preparedness enables individuals to gain confidence from knowing there is a plan for everything. Small changes in one's focus can tremendously affect the outcome in a positive way. 
As girls' varsity lacrosse head coach Sharon Robinson said, "Our team worked with Gene and his Winning Mindset program last year, and we thought it was very beneficial. The Winning Mindset principles apply not only to sports teams but also to life skills as he encourages hard work, accountability, and the ability to reset and move forward after making mistakes."
Zanetti asked students what was the biggest room in the world. Answer: "The room for improvement." Are you content with where you are or do you want to improve? Gene reviewed the four principles of a Winning Mindset: first, I am thankful for the opportunity to compete; second, I'm aggressive and relentless; third, I have no fear of losing or making mistakes; and last, I never, ever give up. 
In relation to social media and the world around us, Gene noted that no one posts a bad day and we're spending valuable time thinking about other people. Whatever you feed your mind with will come out in your behavior and words. He emphasized to students to know who they are, what their values are, and what they believe in and to know their worth. Knowing this will enable them to bounce back up when needed.
Co-presidents of the Bronxville Athletic Council Hanna Bishop, Grace McSherry, and Tim Murray collectively said of the presentation, "Today was a great experience. We think that playing a positive mental game is a really important part of being a good student, athlete, and person, so we're excited to take the first step into gaining a winning mindset." 
Pictured here: Gene Zanetti and co-presidents of the Bronxville Athletic Council Tim Murray, Hanna Bishop, and Grace McSherry.
Photo courtesy The Bronxville School Foundation
Editor's note: As a public service, MyhometownBronxville publishes articles from local institutions, officeholders, and individuals. MyhometownBronxville does not fact-check statements therein, and any opinions expressed do not necessarily reflect the thinking of its staff.