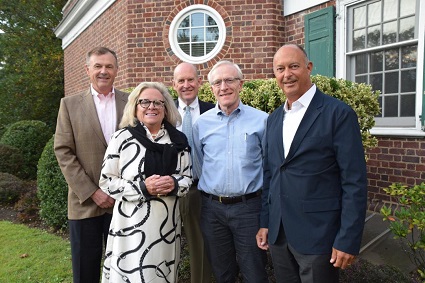 By Carol P. Bartold, Senior Writer
Sep. 18, 2019: Concerns about civil behavior, quality of life, and jurisdictions in Bronxville have reached a critical point. Mayor Mary Marvin reported to the Bronxville Board of Trustees that over the weekend of September 6, racist, lewd, and taunting graffiti was painted on the interior walls of the tunnel leading from Pondfield Road to the southbound platform at the Metro-North Bronxville station.
Marvin described the graffiti as mostly spray painted and primarily aimed against Bronxville Police officers. It appeared the evening of Friday, September 6, and was not removed by the Metropolitan Transportation Authority (MTA) until Monday, September 9.
She added that, since the station is the railroad's property, enforcement jurisdiction falls to the MTA Police rather than the Bronxville Police Department. Bronxville officers reported the defacement to the MTA Police. "Our influence over there is zero," Marvin said.
The mayor reported that she has contacted the office of New York State Assembly Representative Amy Paulin for assistance in persuading the MTA to install security cameras at Bronxville Station. "Metro-North has no cameras on any of its property in Bronxville and we have to make a push for them," she said. "Metro-North has cameras in most places." She indicated that the railroad has refused to install security cameras at Bronxville Station. The agency will not permit the village to install cameras on its property. Because there is no such equipment, Marvin said, the people who painted the graffiti will never be found.
Marvin also reported that, over the summer, the Bronxville downtown business district experienced an influx of large groups of young people on the weekends. They have not only acted in a highly disrespectful and vocally abusive manner toward Bronxville Police officers but also have impaired the quality of life for the village's downtown residents. Marvin stated that she has fielded numerous calls from distressed citizens who live on Tanglewylde Avenue and Pondfield Road.
According to Chief Christopher Satriale, the groups are doing nothing illegal, but they have used cell phones to record their verbal altercations with Bronxville officers and, in an attempt to claim police brutality, tried to bait the officers to touch them.
Mayor Marvin announced that the police department planned to put several officers on overtime for the weekend of September 13.
"I can personally say I have zero tolerance for this," Marvin emphasized. "It's sad and upsetting news and we need to be in the forefront of stopping this kind of thing."
Pictured here:  Bronxville Village Board of Trustees (L to R): Bob Underhill, Mary Marvin, Bill Barton, Randy Mayer, and Mark Wood.
Photo by A. Warner