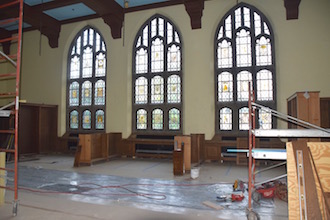 By Carol Bartold, Senior Reporter
Sep. 4, 2019: The reconfigured Bronxville School library, still an active construction zone, is expected to be open for student use on Monday, September 9, according to Dan Carlin, assistant superintendent for business.
The updated library is designed to create an adaptable space that will accommodate changing program needs and move away from the traditional, more static 19th-century book depository model. The newly refurbished library will open as a space conducive to flexible, project-based learning, collaboration, and interaction among students.
Architectural changes to the library include a new glass wall along the corridor, which will give passersby a view into the space. Most of the book stacks have been removed from the main room and, Carlin said, although some shelves will remain for books, the number of books to be housed in the library has been cut by one-half to two-thirds. Removal of the stacks will make the stained-glass windows more visible, as well as let more natural light into the room. Space previously occupied by the stacks will be for collaboration and workspace for students.
"We tried to keep the old look in the middle section and make the two side rooms more modern," Carlin said. Original light fixtures are being restored and will be installed with up-to-date wiring and LED lights.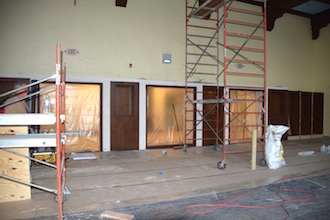 Rooms at either end of the library's main room will be interactive learning spaces outfitted with educational technology. New, wider doorways promote flow from these areas into the main room. These more modern spaces will have lighter-weight, modular furniture pieces that accommodate flexible configurations for small-group learning. State-of-the art projectors and sliding white boards will be installed.
The educational technology room to the north of the library's main room will ultimately have a dropped ceiling. The room's HVAC system, which will be installed above that ceiling, is part of the overall bond project for capital improvements and will be installed during the summer of 2020. "We're leaving that ceiling as is for now," Carlin said, "so this room will remain a bit incomplete."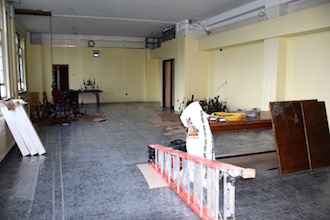 The library renovation, conceived in 2014, approved by the New York State Education Department, and supported financially by the Bronxville School PTA, suffered a delay in 2018 when bids for the $1 million refurbishment resulted in bids between $1.4 million and $1.5 million. Ultimately, those bidders decided not to proceed with the project.
"It took us three or four tries to get a design that would be effective with that $1 million funding," Carlin noted. "That's why this project has taken so long." He added that, with the approval of the bond referendum, the district could move the cost of the library's HVAC upgrade to the overall bond project. "That's what finally made the library renovation work," he said.
Pictured: Bronxville Library under construction in late August.
Photos by A. Warner