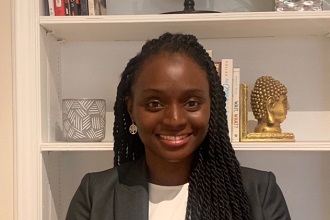 Contributed by Michael Ganci, Syntax, for The Bronxville School
Jul. 10, 2019:  The Bronxville School Board of Education and Superintendent Dr. Roy Montesano are pleased to announce the appointment of Rakiya Adams as assistant principal of Bronxville Elementary School. 
With 13 years of experience in education, Adams joins the Bronxville School community from Linden Tree Elementary School in the Bronx, where she served as a second-grade teacher and most recently as a STEM resource specialist and math coach. During her tenure, she worked closely with teachers to design and implement project-based learning units for K-5 and led professional development workshops for teachers. Adams began her career as a universal pre-K teacher in the Bronx before becoming an education director at an early childhood center.
"She is knowledgeable and approachable," Bronxville Elementary School Principal Tricia Murray said. "Her experience and passion will complement our work around the Bronxville Promise because of her background in project-based learning and leadership with STEM initiatives."
Adams earned her master's degree in early childhood education from Touro College and her educational leadership certification from The College of Saint Rose.
She will step into the position on July 1, 2019. 
Pictured here: Rakiya Adams. 
Photo courtesy The Bronxville School

2Editor's note: As a public service, MyhometownBronxville publishes articles from local institutions, officeholders, and individuals. MyhometownBronxville does not fact-check statements therein, and any opinions expressed therein do not necessarily reflect the thinking of its staff