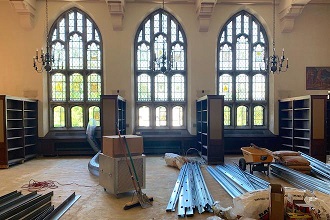 By Carol Bartold, Senior Reporter
Jul. 3, 2019: At its final regular meeting of the 2018-2019 academic year on June 20, the Bronxville Board of Education addressed final business for the year and addressed issues facing the district for the 2019-2020 year.
Dan Carlin, assistant superintendent for business reported that the renovation of Chambers Field is complete. Work on the track has been proceeding for approximately a month but has been slowed by several days of rain. Carlin said, however, that completion is expected for late June or early July.
Board trustee Tom Curran expressed concern about field access and security over the summer when school is not in session. "There has been some consideration about bringing in a new fence to enclose the field only and leaving the track open," he said. He suggested the board evaluate the merits of installing a fence around the field only or maintaining the current fence enclosing the field until the opening of school in the interest of preserving it for students and leaving the track open.
Carlin noted that many of village residents who supported the Chambers Field and track project use the track. "I think keeping the track open over the summer will be very important for the community," he said.
Tom Curran suggested that the district consider hiring a security guard to patrol the field whether or not it's fenced. Dan Carlin noted that the district will work more diligently to ensure that only entities that have purchased permits for sports camps will be granted access to the facility during the summer.
Dan Carlin also reported that work on the library commons is progressing and that the contractor is ahead of schedule.
Work on the capital projects, approved by voters in May, is scheduled to begin mid-August. Carlin emphasized that both he and Superintendent Dr. Roy Montesano have expressed to the contractor that the installation of a 36-inch storm water main, designed to alleviate flooding on Meadow Avenue and in the surrounding area, is a top priority
The board accepted the certified official results of the May 21 vote and election:
Proposed 2019-2020 budget: 193 votes in favor; 61 votes against.

Proposition #1, the $1.5 million Capital Projects Referendum: 204 votes in favor, 49 votes against.

For the board seat held by Arleen Thomas: 210 votes in favor, 3 write-in votes

For the board seat held by Jack Bierwirth: 208 votes in favor, 2 write-in votes

For the board seat held by Tom Curran: 214 votes in favor, 6 write-in votes
The Bronxville Board of Education will reconvene on Thursday, July 11, for its annual reorganization meeting.
Pictured here:  Bronxville School Library under construction
Photo by A. Warner