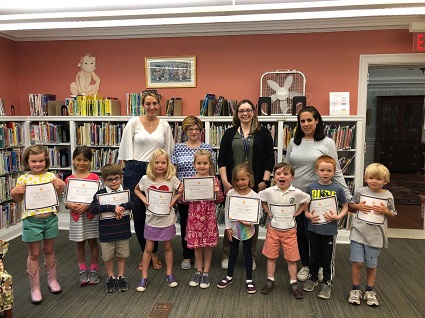 By Irena Choi Stern, Co-Vice President, Friends of the Bronxville Public Library
Jun. 26, 2019: Teaching her class about the three "R's," Reduce, Reuse, Recycle, at the Reformed Church Nursery School is one of Tevon Troja Palermo's favorite lessons. But she never imagined her five-year-olds would take the lessons to heart and initiate a drive that resulted in a donation of more than 1,000 used books, toys, and games to the Bronxville Public Library and the Vietnam Veterans of America.
"My class participated in project-based learning, in which their essential question was 'how can we reuse our toys and books when we're finished with them?'" Palermo said. "The children got stuck on the reusing idea. Our church does a clothing drive and they thought of a drive of their own."
The children also had the opportunity to meet with a veteran, Bronxville resident Captain John M. Murtagh, who had been deployed with the marines to Afghanistan and spoke to the children about his service.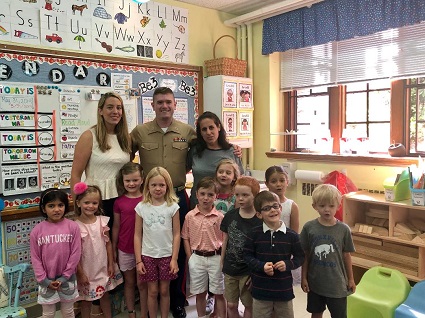 The Junior-K class with Captain John Murtagh.
"On the actual day, the children worked the stands, helped sell baked goods, and sorted the books, toys, and games," Palermo said. "In the following weeks, they helped write thank-you notes to the donors." 
On May 30, the children made their donation to the Bronxville Public Library.
"They donated a total of $100 to the FOBPL to reach 'Faulkner Friend' status and donated over 300 books to the library," said Jessica Veissy, the library's head of youth services. "This was a project the children decided to do themselves and got their teacher on board. It was such a lovely surprise!"
Palermo is proud of the work her students have done to give back to their own community while also learning the important lesson of giving to others.
"I truly hope that this spirit of giving inspires them and others for years to come," she said.
Pictured at top:  The Junior-K class with Ms. Jessica and Ms. Maureen in the children's room at the Bronxville Public Library.
Photos courtesy the Reformed Church Nursery School
Editor's note: As a public service, MyhometownBronxville publishes articles from local institutions, officeholders, and individuals. MyhometownBronxville does not fact-check statements therein, and any opinions expressed therein do not necessarily reflect the thinking of its staff.