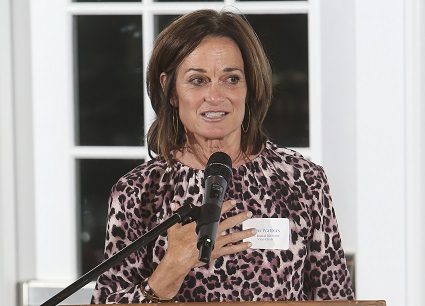 By Nancy McKenna, Chair, Board of Directors, Destination: College
Jun. 26, 2019:  On a gorgeous June evening with a sellout crowd at the Bronxville Field Club, Destination: College held its annual dinner, this year honoring longtime board member and program head Fern Watters, who is moving with her family to New Orleans.
The event was also a celebration for the DC students, their coaches, their hardworking volunteers, and the wonderful cadre of Bronxville High School students who volunteer their time to help the students reach the goal of college.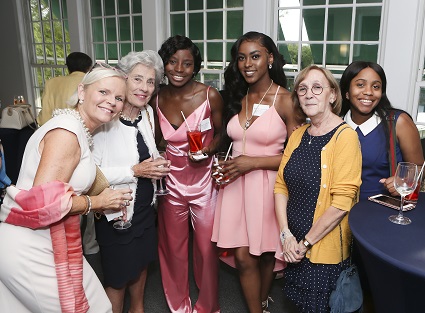 Destination: College volunteers and students
The mission of Destination: College is to assist the nearly 200 students it serves every year at Woodlands, Gorton, and Mount Vernon High School find a college best suited to their educational abilities and financial needs. The 50 seniors in this year's 2019 Destination: College Senior Class did well. They were accepted at over 60 colleges and universities across the United States, including Morehouse College, Spelman College, the most competitive SUNYs, Syracuse University, the University of Rochester, and USC. See below for a full list of the colleges of DC students. 
Linda D'Arcy, Destination: College's newly appointed director of college access/college retention, told the audience that while the national average for the six-year college graduation is below 60% for all income levels, so far, DC's  persistence (continued enrollment) rate for the most recent high school graduating classes of 2017 and 2018 was a very strong 86%. She also noted that thanks to the efforts of the hardworking volunteers, 28 of the seniors had qualified for Educational Opportunity Programs in New York State, which provide additional academic and financial support for students who are economically disadvantaged and require special admissions consideration.
Student speaker and DC alum Brenda Alves, a rising junior at Manhattan College, spoke movingly about the role DC played in her path to college by stating, "Destination :College provides you mentors for life."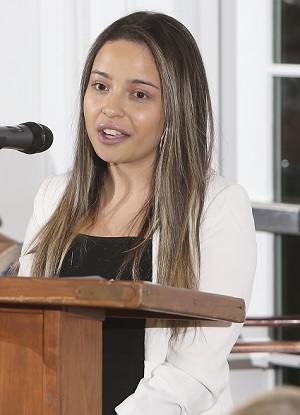 Student speaker Brenda Alves
Board chair Nancy McKenna announced with great pride that this year, thanks to the efforts of his family, friends, and the Destination: College board, $500,000 had been raised in honor of former beloved board member Jeff Cooney, who passed away last year. The money has been earmarked for an endowed fund for the Destination: College scholarship students, 22 of whom proudly received this year's Jeff Cooney's Memorial Scholarship Award.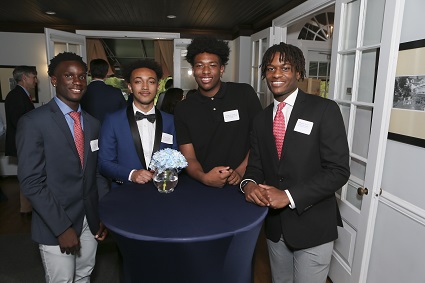 Past and present Jeff Cooney Memorial Scholarship winners.

Finally, students read a tribute to the night's main honoree, Fern Watters, followed by a video highlighting Fern's work and her many contributions to the organization. It was a meaningful tribute to a wonderful woman who will be sorely missed by all at Destination: College.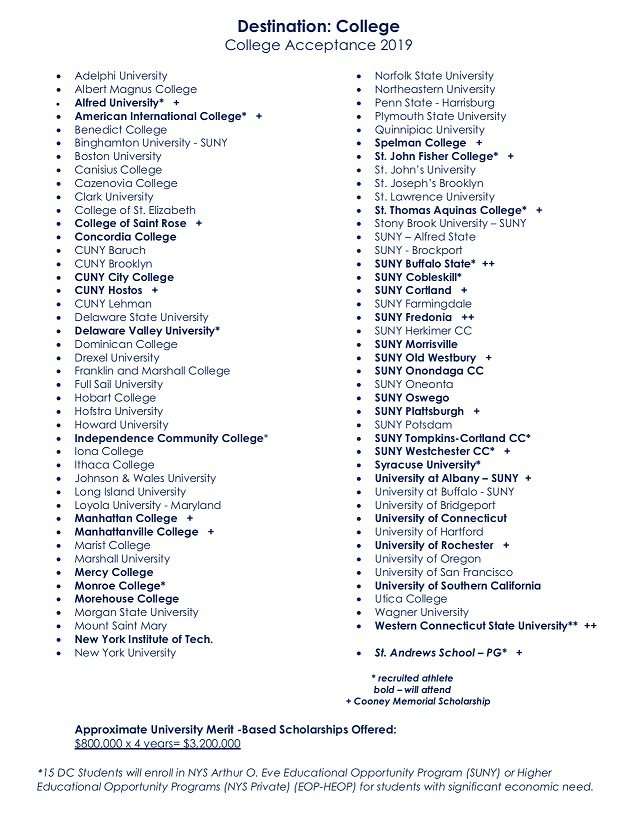 Pictured at top:  Fern Watters, honoree and board vice chair.
Photos by Lonnie Webb Photography
Editor's note: As a public service, MyhometownBronxville publishes articles from local institutions, officeholders, and individuals. MyhometownBronxville does not fact-check statements therein, and any opinions expressed therein do not necessarily reflect the thinking of its staff.