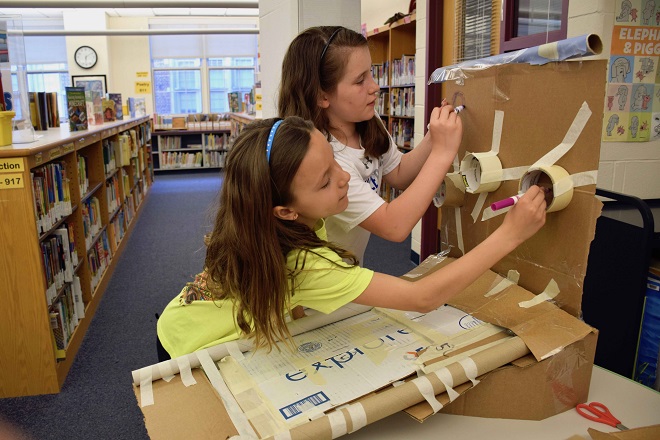 Contributed by Michael Ganci, Syntax, for The Bronxville School

Jun. 12, 2019:  Bronxville School students and families participated in a variety of hands-on workshops that challenged them to use their imagination and creativity during the annual Innovation Expo on May 21. The family-school partnership event was designed to celebrate the creative and innovative spirit across the school community.
The evening featured a K-12 visual arts showcase, a performance of the PUBLIQuartet that included compositions written by members of the high school orchestra, and a variety of educational and engaging workshops for elementary, middle, and high school students.
Dr. Nancy Sulla, founder and president of IDE Corp. (Innovative Designs for Education), provided the keynote address, "Students as Problem-Finders, Innovators, and Entrepreneurs," and discussed the implications of innovation on education and why it is difficult, yet so necessary. Dr. Sulla is an author, national speaker, and leader in transforming learning environments to build student engagement, empowerment, and efficacy. In addition, the district hosted Kelly Kingman from Kingman, Inc., as a sketchnote artist during Dr. Sulla's presentation and a few other sessions.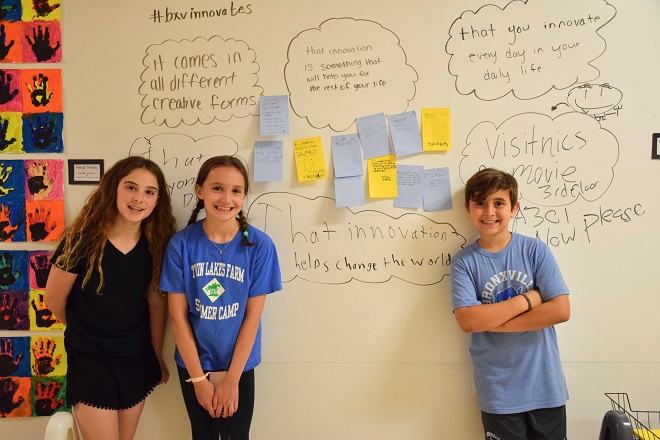 Bronxville School students at the Innovation Expo.
One of the elementary school workshops challenged participants to build an arcade game out of cardboard, while another workshop encouraged participants to build the tallest straw structure that can support a tennis ball above a table. In the Rock-n-Roller Coaster workshop, participants created a rollercoaster and tested its capacity for speed. In other workshops, students learned how to code, designed innovative toothbrushes, and made their own shadow puppets.
In one of the middle school workshops, participants learned how to program LEDs and sound to create a music and light show. In other workshops, students showcased their compound machines, while others debuted their original short films. The evening also featured a meditation workshop and a workshop on creating and designing basic applications.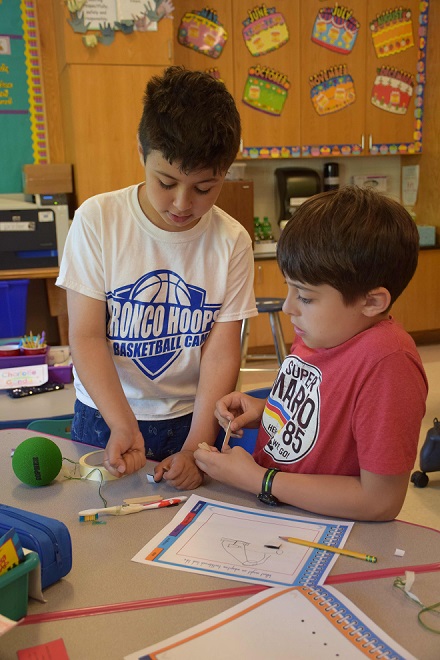 Bronxville Elementary School students designed innovative toothbrushes during the Expo. 
In other workshops, participants learned how to edit photographs and create digital illustrations and animations. In addition, students presented a discussion on their investigation of the water quality of the Bronx River and the extensive historical research that supports National History Day.
Special thanks to The Bronxville School Foundation for supporting many of the projects and initiatives at the Innovation Expo through generous grants. 
Pictured at top:  Bronxville Elementary School students built an arcade game out of cardboard during the annual Innovation Expo on May 21.
Photos courtesy The Bronxville School
Editor's note: As a public service, MyhometownBronxville publishes articles from local institutions, officeholders, and individuals. MyhometownBronxville does not fact-check statements therein, and any opinions expressed therein do not necessarily reflect the thinking of its staff.