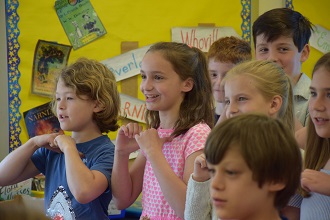 Contributed by Michael Ganci, Syntax, for The Bronxville School
Jun. 5, 2019:  Bronxville Elementary School fourth-grade students, who have been studying and writing poetry, expressed their creativity and imagination when they performed original and well-known poems before an audience of parents, teachers, administrators, and peers during the fifth annual PoetryFest.
Having analyzed various poetic techniques and having learned how to use sensory language, figurative language, line breaks, repetition, and personification, the students wrote poems based on a variety of topics. Some of them drew inspiration from ordinary items such as a locker, toothpaste, a baseball bat, Brussels sprouts, and staples and brought them to life through meticulous language and word choice.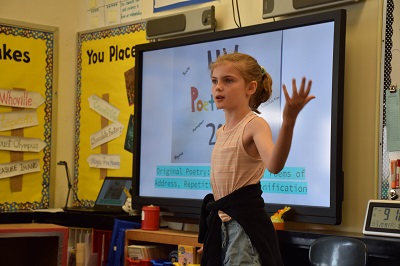 "I'm so deeply impressed with how their poems turned out," said teacher Lauren Wright, who launched the event five years ago. "What stood out to me the most was the students' enthusiasm. We have an amazing, but rigorous, writing curriculum, and this unit gives students the opportunity to engage a different part of their writing brain. I loved seeing their creativity, imagination, and humor come through these poems."
Wright said PoetryFest was inspired by her own elementary school teacher, who encouraged her to use her imagination and express herself creatively. In turn, she hopes she has made a lasting impression on her own students.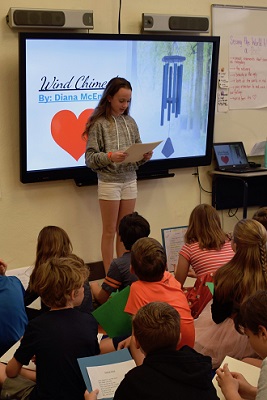 "To me, PoetryFest is not just about the poetry," Wright said. "It's about overcoming your fears, expressing your inner voice, and, most of all, knowing what to do when you mess up. I hope I helped my students find their voice and know they should never be afraid to let their creativity, imagination, and true inner self shine. Also, I hope that they've realized that they are quite resilient and can overcome any challenge with a little perseverance and determination."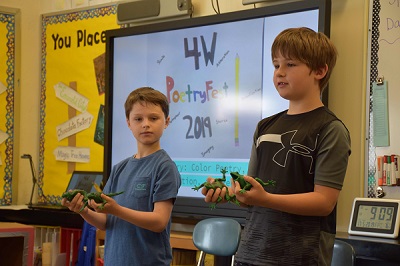 Students said they were grateful to their teachers for helping them become poets, gain more confidence, and conquer their fears.
Pictured here: Bronxville Elementary School fourth-grade students performing original and well-known poems during the fifth annual PoetryFest.
Photos courtesy of The Bronxville School

Editor's note: As a public service, MyhometownBronxville publishes articles from local institutions, officeholders, and individuals. MyhometownBronxville does not fact-check statements therein, and any opinions expressed therein do not necessarily reflect the thinking of its staff.