May 1, 2019: At the April 23 meeting of the Bronxville Board of Education, it was announced that the Bronxville School track, which is in the process of being renovated, will be named the "James Owen Mitchell Track." Bronxville School athletic director Karen Peterson read the resolution at the meeting, after which it was adopted. A special dedication ceremony will be scheduled. The track is being changed from eight to six lanes on the straightaways and from six to four lanes on the curves to make it a 440-yard track.
James Owen Mitchell started at the Bronxville School in 1978 as a Latin teacher and has spent the last 41 years as the coach of the highly successful girls' cross country and girls' track and field teams, both of which he started. As stated in the resolution, over these years, "Fifty-seven girls on these teams have won 170 All-American certificates, the girls' cross country team has won 12 New York State championships, the girls' cross country team, the indoor track team, and the outdoor track team have won 115 league championships, the girls' cross country team has won 35 sectional championships, the indoor track team has won 33 sectional championships, the outdoor track team has won 36 sectional championships, the indoor/outdoor teams have won 5 national championships, and 14 girls on the cross country and track and field teams have been selected Con Edison Scholar Athletes."
James Mitchell was inducted into the National Track and Field Hall of Fame in 2009 and into the New York State Public High School Athletic Association Hall of Fame in 2013. He has now retired from his head coaching position at Bronxville but is still involved in the girls' track and cross country programs as an assistant coach. 
Other news announced at the meeting was the tenure appointments of math teacher Brittany Braia, physics teacher Benjamin Cornish, guidance counselor Aaron Kind, math teacher Rachel Sugarman, and teaching assistant Brian Crowley.
Bronxville School Assistant Superintendent Dan Carlin reported that, assuming good weather, the new turf field being installed on Chambers Field is targeted for completion by Memorial Day. Work will continue on the new track until it is completed. Carlin also noted that three new flood mitigation pumps are being installed this week. Two pumps were installed in 2017 as part of a large flood mitigation project. It was anticipated at the time that three additional pumps would be added to further mitigate future flood waters.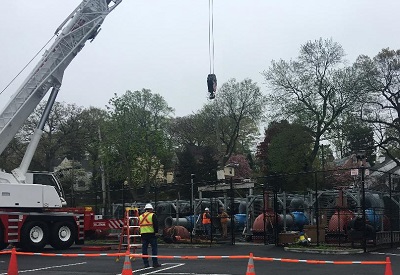 Installation of flood mitigation pumps at the Bronxville School. Photo by staff.
The school will be focusing on other construction projects over the summer. There will be a budget hearing on May 9.
Pictured at top:  Bronxville School in April of 2019.
Photo by A. Warner