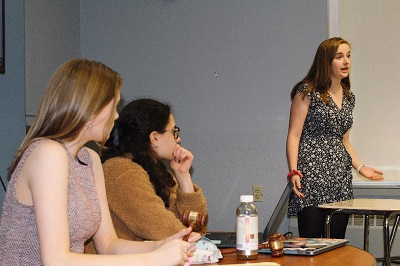 Kochansky, director general for BXVMUNC, opened the conference telling students of the value of the Model United Nations experience.
"Once I joined Model UN, I was able to push the boundaries of my comfort zone," Kochansky said. "Surrounded by a hugely supportive group of people, I found my voice and learned how to express what I believe."
Fifteen students took on the roles of ambassadors and participated in three committees – the Social and Humanitarian Committee (SOCHUM), which focused on the issue of freedom of the press; the Disarmament and International Security Committee (DISEC), which debated nuclear disarmament; and the Security Council, which included middle school students whose debates focused on combating ISIS. Darla Silva, a senior adviser at UNICEF, provided the keynote address at the conference and shared her experiences of working in international relations.
"The most rewarding part of the day was hearing feedback from our youngest middle school delegates, who enthusiastically said that they look forward to participating in MUN in the future," Burnell said. "Seeing that we were able to influence our younger peers to engage in something that we've been passionate about for years was truly inspiring."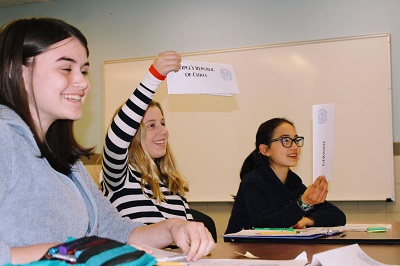 Burnell said she was impressed by the caliber of debate in which all delegates immersed themselves. As a result of their outstanding performance, sophomore Annabelle Krause, who represented China in SOCHUM, and junior Sasha Paradise, who represented South Korea in DISEC, earned Best Delegate awards. 
Rich Diefenbach, a social studies teacher and club adviser, said the students demonstrated a high level of professionalism and enthusiasm throughout the experience.
"Each student was engaged, shared ideas, and collaborated on solutions," he said. "The committee chairs nurtured rigorous and thoughtful participation."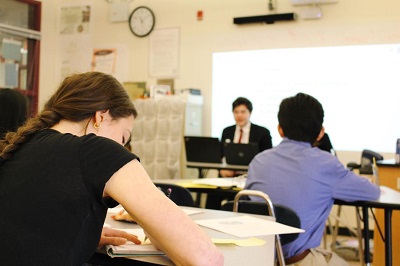 Members of the Model United Nations Club attributed their success to the guidance they received from Diefenbach, as well as the support from teacher Christina Reidel, Principal Ann Meyer, and Assistant Principal Marcellus Lessane.
Pictured here: Bronxville High School students launched their school's first Bronxville Model United Nations Conference (BXVMUNC) on April 7. 
Photos courtesy The Bronxville School
Editor's note: As a public service, MyhometownBronxville publishes articles from local institutions, officeholders, and individuals. MyhometownBronxville does not fact-check statements therein, and any opinions expressed therein do not necessarily reflect the thinking of its staff.