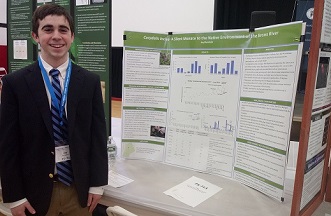 Contributed by Michael Ganci, Syntax for The Bronxville School

Apr. 3, 2019:  Bronxville High School senior Jay Burstein earned the prestigious NASA Earth System Science Award after presenting his research on invasive species during the annual Westchester Science & Engineering Fair, held at Sleepy Hollow High School on March 16.
For his project, Corydalis Incisa: A Silent Menace to the Native Environment of the Bronx River, Burstein studied an invasive plant that has been spotted around the Bronx River but has also spread to Pennsylvania, Tennessee, and Virginia.
"My study examined Corydalis's growth, flowering, and reproduction in a one-square-meter plot along the Bronx River," Burstein said. "Specifically, I did a controlled experiment to learn what would happen when no method of removal took place. In addition, I compiled weather data from NOAA's website under the Westchester County Airport Weather Station. I computed averages for weekly temperature, daylight length, and precipitation, where I compared my findings with my observations of the plant's growth."
The NASA Earth System Science Award recognizes projects that provide insight into Earth's interconnected systems. Presenting before a panel of judges, Burstein – who conducted his research as part of an assignment in his Bronx River Research class – said he explained how weather correlates with the growth of Corydalis.
"Winning a prestigious award is very meaningful because I am the first student from Bronxville to participate in this contest as a part of Bronx River Research," he said.
"Since the plant that I was studying is relatively new, I am glad that I could bring this topic to the forefront and present it as a serious threat before Corydalis destabilizes the Bronx River."
The fair featured more than 650 projects from 41 high schools across Putnam and Westchester counties.
Pictured here: Bronxville High School senior Jay Burstein.
Photo courtesy The Bronxville School

Editor's note: As a public service, MyhometownBronxville publishes articles from local institutions, officeholders, and individuals. MyhometownBronxville does not fact-check statements therein, and any opinions expressed therein do not necessarily reflect the thinking of its staff.