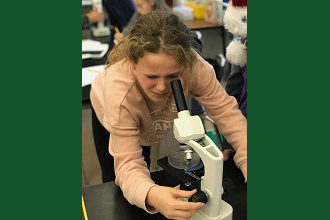 Contributed by Michael Ganci, Syntax, for The Bronxville School

Mar. 6, 2019:  Bronxville Elementary School fourth-grade students, who have been studying what makes a healthy watershed as part of their science classes, recently analyzed water samples from the Bronx River to test for the presence of sediments.
Before observing the water samples, which were collected by their teachers in the fall, the students made a hypothesis. They supported their hypothesis with evidence from what they had learned about sediment pollution. As part of the project, the students analyzed a 50-milliliter water sample before letting it evaporate from an evaporation tray. Using hand lenses and microscopes, they observed the sediments left in the evaporation tray and recorded the data.
"Results showed a presence of different types of sediments, and the students were excited to find a few living creatures were in the water samples," science teacher Susan Monaco said.
The students will continue to test samples of water from the Bronx River in the winter and spring to determine if the time of year affects the types and amount of sediments found in the water. As part of the ongoing scientific learning experience, they will visit Scout Field in March to make observations and explain how sediments find their way to the river and what types of natural and manmade sediments might be present at Scout Field.  
"This project gives the students the opportunity to apply the science skills they use in class to an authentic scientific research project, and it empowers them to use their skills as young scientists to make a difference in their community," Monaco said.
Monaco said the experience has allowed the students to further build their confidence, motivation, and interest in science. 
"They are excited about using their skills to investigate a real-life problem, and they understand their research is important," she said.
The high-powered microscopes, which the students have been using to conduct their investigation, were provided to the elementary science department through a generous grant from The Bronxville School Foundation.
Pictured here: Using a microscope, a Bronxville Elementary School fourth-grader observes the sediments left in the evaporation tray.
Photo courtesy The Bronxville School

Editor's note: As a public service, MyhometownBronxville publishes articles from local institutions, officeholders, and individuals. MyhometownBronxville does not fact-check statements therein, and any opinions expressed therein do not necessarily reflect the thinking of its staff.