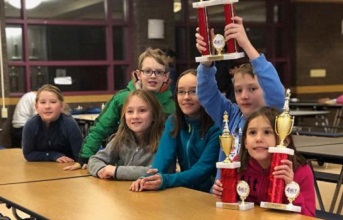 By George Lekovic, Father of children in The Bronxville School

Feb. 20, 2019:  The Bronxville Elementary School Chess Club hosted more than one hundred young chess players and their parents last Saturday for the annual Bronxville Elementary School Chess Tournament. In association with the National Scholastic Chess Federation, chess players competed in several groups both as individuals and teams. Bronxville took home several trophies, all of which were added to the display in front of the elementary school office. 
This was the first year that high school chess players, who went through the same program, assisted the chess teachers during lunchtime chess for K-5 students. It's an exciting opportunity for the young ones to learn from their older peers and for the older players to get exposure to and experience in teaching.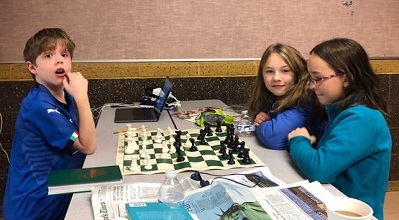 The next big tournament is the Chess Nationals in Nashville, May 8 to 12, and several students will participate.
If you have any questions about the program, please contact George Lekovic, Gary Wilson, or Janaka Withana at  CLOAKING
Pictured here: Bronxville children at the Bronxville Elementary School Chess Tournament
Photos by George Lekovic
Editor's note: As a public service, MyhometownBronxville publishes articles from local institutions, officeholders, and individuals. MyhometownBronxville does not fact-check statements therein, and any opinions expressed therein do not necessarily reflect the thinking of its staff.