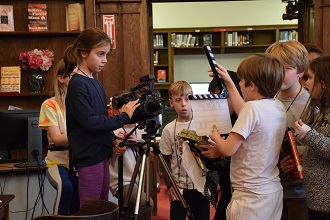 Contributed by Michael Ganci, Syntax, for The Bronxville School

Feb. 20, 2019:  Over the course of two weeks, Bronxville Elementary School fourth-graders became writers, directors, producers, and actors to create anti-bullying public service announcements based on their own experiences. Using professional-quality camera equipment, they partnered with Mike Feurstein, a filmmaker and educator and the creator of the program DON'T WAIT to UnMake a Bully, to model a movie set and fulfill their chosen jobs.
Before filming, the students participated in meaningful conversations about the differences between bullying and social disagreements. Through collaboration and teamwork, each fourth-grade class brainstormed ideas and discussed real-life bullying scenarios while writing their PSA script.
"What I think is most special about this program and the thing that exceeded even my very high expectations was the amount of ownership that the students were allowed to take of the project themselves," third-grade teacher Derrick DiRienzo said. "As a teacher, we are used to being in a position of control and having to really teach them to have independence, but in this project, they really were expected to have the independence from the beginning and they really ran with it."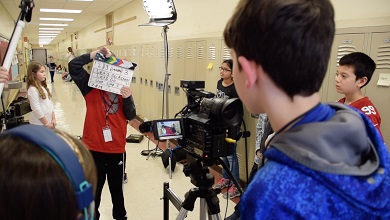 The experience allowed the students to be creative while fulfilling their chosen jobs of director, actor, sound, or slate.
"In addition to the creativity, what they were learning was really important," DiRienzo said. "They were able to really synthesize the information in a way that they hadn't been able to before. They were able to make personal connections with the issues that we face when it comes to bullying, and they really were able to take the things that they were learning about it and then execute them through the filmmaking process, which really helped them understand the concepts on a whole new level."
The students' work with the DON'T WAIT project was generously supported through a grant from The Bronxville School Foundation. The program works to highlight the importance of taking active steps against bullying and empowers students to stand up against bullying through positive media.
For a video on the students' work, click here. 
Pictured here: Bronxville fourth-graders working on the anti-bullying project.
Photos courtesy The Bronxville School.
Editor's note: As a public service, MyhometownBronxville publishes articles from local institutions, officeholders, and individuals. MyhometownBronxville does not fact-check statements therein, and any opinions expressed therein do not necessarily reflect the thinking of its staff.