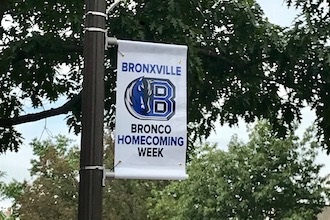 By Linda Pagano, Bronxville School Parent

Oct. 10, 2018:  It is fall in Bronxville, which means it is the season of homecoming. Emanating from the athletes, students, parents, faculty, alumni, and friends is a Bronco fever of excitement, camaraderie, and anticipation, felt deeply and passionately for one action-packed week. The Bronxville School Athletic Department and the PTA Athletic Council are proud to sponsor Homecoming 2018. 
With more than a dozen varsity and JV games that began on Tuesday and extend through Saturday, October 13, fans, faculty, and alumni are invited to enjoy the thrills, the trepidation, and the electricity in the stands and to celebrate our athletes on the field, in the pool, around the track, and on the courts. From the Bronxville feather flags and game night-lights to the varsity parade of athletes and bonfire to the community pep rally and the countless volunteers that make this week a huge success, it is a weekend of celebration for The Bronxville School and the Bronxville community.   
In keeping with the PTA Athletic Council's 2018-2019 initiative, "Broncos Together," the ripple effect continues throughout the village with homecoming banners lining our vibrant Bronxville business district, thanks to the assistance of Mayor Mary Marvin and the generous support of the Bronxville Chamber of Commerce.
As if all of this was not enough of an invitation to join in the kinship, spirit, and fun of Bronxville homecoming, there will also be plenty of food. Food Truck Night is Thursday, October 11, from 5:00 to 9:00 pm in the Meadow Avenue parking lot, featuring the Walter's Hot Dog Truck, Road Grub Mobile, Abeetza Pizza, Jimmy's Soft Serve Ice Cream Truck, and the Crazy Taco Mex Truck.
In addition, all weekend beginning on Thursday, the Bronco Barn & Grill will be serving specialty foods donated by our generous local dining establishments and hometown supporters, including Bronxville's Doukas family-owned Eastchester Odyssey Restaurant Diner, Lange's Deli of Bronxville, Mini's Prime Meats and Specialties, Park Place Bagels, and Scarborough Fair Catering. Pete's Park Place Tavern & Restaurant and Gino's Pizzeria have also made contributions, and the PTA Athletic Council extends its sincerest thanks to all of their wonderful donors.
Bronco apparel will be available all week through the PTA bi-annual apparel sale, with opportunities to purchase your blue-and-white gear under the tent on the front lawn. A special selection of gear will be available for purchase near the Bronco Barn & Grill on Thursday and Friday nights and all day and night on Saturday. We invite you to join in the fun and excitement by coming to a homecoming game or event. The tradition continues.
Click here for a full schedule of homecoming week's event, including game times, on the Bronxville Athletic Department's website. Click here for another MyhometownBronxville article on homecoming focusing on the teams.
Go Broncos.
Photo by Tricia Reilly
Editor's note: As a public service, MyhometownBronxville publishes articles from local institutions, officeholders, and individuals. MyhometownBronxville does not fact-check statements therein, and any opinions expressed therein do not necessarily reflect the thinking of its staff.