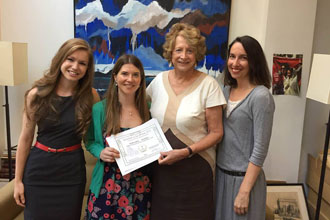 By La Plume D'Or Committee

Mar. 29, 2017:  Bronxville High School graduate Margaret Fuller (2002) was recently awarded La Plume D'Or, a contest operated by La Défense de la Langue Française, an association that is part of the French government. 
The association creates an exam every year, and all the Alliance Françaises around the world offer this two- hour exam, which tests grammar, cultural/historical/geographical knowledge of France, and includes an essay.  The top prize is a trip to Paris for "La Semaine de la Francophonie" (Francophone week) in mid-March. 
After taking the test in March 2016 at the Alliance Française in New York, Margaret received news of her prize in June 2016. Nine months later on March 13th, she, along with her husband, Josh Hayden, and parents David and Isabelle Fuller, attended the ceremony at le Sénat near the Luxembourg Gardens in Paris, where she officially accepted the award and gave a speech.
Among the thirty present were two senators, as well as the American cultural attaché to France. La Plume D'Or has been offered since 2001 and the winners from the previous two years were from the Czech Republic and Mongolia, respectively.

Pictured here:  Margaret Fuller accepting the Plume D'Or award.

Photo courtesy La Plume D'Or Committee