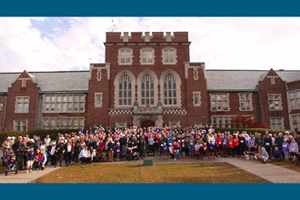 By Tom Welling and Peggy Williams, Executive Director, The Bronxville School Foundation

Dec. 7, 2016:  The 10th annual Katie Welling Run was held on its traditional day--the Saturday after Thanksgiving.
Katie's death in an off-campus fire at Miami University in Ohio in 2005, just 11 days after her 21st birthday, was devastating for her family and friends, who still struggle with her loss. The love and support from Katie's friends and so many in the community were and continue to be a great source of comfort to the Welling family. Katie's Run is a recurring manifestation of this community spirit of caring.
Before the run began, Jennifer Doyle Kenney, joined by several of Katie's closest friends and classmates, welcomed more than 375 friends, family, and neighbors. Jennifer proceeded to describe her lifelong friend as a very special person who was beautiful inside and out and who always saw the good in people. Jennifer concluded by asking everyone to keep Katie in their thoughts today and every day.
The Bronxville School Foundation and the race coordinators wish to thank those of you whose support made the event a huge success. The 2.5-mile run/walk was organized by Katie's classmates and friends 10 years ago and has become an important community Thanksgiving weekend tradition. 

Since 2007, this event has raised over $115,000 for The Bronxville School Foundation. It is hard to adequately express the scope of support this has provided within the school community. The proceeds from the run are used by the foundation to support new programs at The Bronxville School, where Katie spent so many happy years. 
The foundation would like to thank Chief Christopher Satriale and the members of the Bronxville Police Department for their invaluable assistance. We would also like to thank the Running Company Store (which made its store available for registration on Friday), as well as several local businesses. Specifically, a post-race feast for runners and enthusiastic supporters was contributed by J&G Deli, Lange's Deli, and Park Place Bagels. Flowers were contributed by Mrs. Morgan's and by Tryforos & Pernice, and hundreds of wonderful pictures were contributed by Dr. Jim Hudson.
To view the pictures, go to www.bronxvilleschoolfoundation.org and click on the Katie Welling Post-it. Race results are posted at http://www.fultonaccuratetiming.com/results-entries/. To see a selection of the photos, click here.
Congratulations to the top three fastest finishers: Sean Ryan at 13:12, Owen Hayes at 14:34, and Akash Molekudy at 15:11.

Pictured here:  Participants and supporters of the Katie Welling Run gathered in front of The Bronxville School and Katie Welling Run cap.

Photos by Jim Hudson