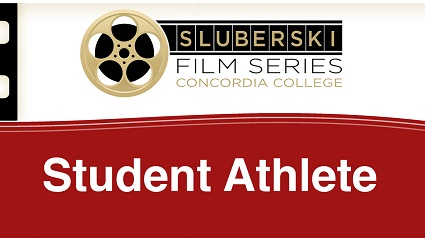 By Rebecca Portnoy, Associate Director of Communications, Concordia College
Feb. 12, 2020: Concordia College's Sluberski Film Series will present the HBO Sports documentary Student Athlete on Thursday, February 13th, at 7 pm in Sommer Center.
The screening will be followed by a conversation with Robert Romano, Professor of Sports Management at St. John's University, current Concordia student-athletes Joseph Impeduglia and Sara Calvert, and Jason Francis, Associate Director of Student Success at Concordia and former Concordia student-athlete.
The film examines the complex rules of amateur athletics in America and how these rules effect the unpaid college athletes who generate billions of dollars for their institutions every year.
A production of LeBron James and Maverick Carter's SpringHill Entertainment and Steve Stoute's United Masters, the feature-length presentation is directed by Sharmeen Obaid-Chinoy (director of HBO's Oscar winners Saving Face and A Girl in the River: The Price of Forgiveness) and Trish Dalton (Bordering on Treason).
Concordia College's Sluberski Film Series events are free and open to the public. Click here to register.
Photo courtesy Concordia College

Editor's note: As a public service, MyhometownBronxville publishes articles from local institutions, officeholders, and individuals. MyhometownBronxville does not fact-check statements therein, and any opinions expressed do not necessarily reflect the thinking of its staff.